Incubating raw talent 80 top young innovators and entrepreneurs at SHAD New Brunswick this summer
Author: Communications
Posted on Jul 4, 2017
Category: UNB Fredericton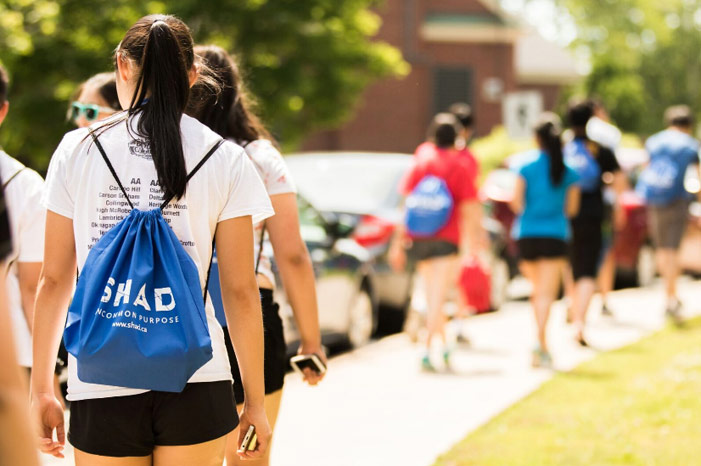 Loren Condie comes from Waterville, N.S., a town with 928 people, and has already shown she can be quite the change maker. Ms. Condie led an initiative to open her school's first gender neutral washroom for transgender students. "My dream is to help the earth to stop its destruction and to help us recover and grow once more," Ms. Condie says. She adds, "I hope SHAD can teach us how to be leaders for our generation and to guide us onto the right path." Ms. Condie is excited to join 79 like-minded, similarly driven students at SHAD New Brunswick looking to make a difference in their community or beyond. The Grade 11 student is one of 801 students from across Canada participating this July at one of SHAD's 13 host campuses from coast to coast. Adil Natalwalla of Toronto is another Grade 11 student joining Condie at SHAD New Brunswick. Mr. Natalwalla was born tongue tied and that left him afraid to do any public speaking in his youth. His sister spoke for him. After undergoing surgery and years of speech therapy, he is now the head of his school's debate club and he makes an impact in other ways. At his school, he formed First Steps, a group helping Syrian refugees better integrate into their community through sports. "I had the privilege to help some of them skate for the first time," Mr. Natalwalla says adding he's honoured to now to be a part of SHAD. "SHAD provides an excellent opportunity to build relationships so that we can work towards our common purpose to better our communities and our country." At SHAD, which was founded in 1980 to help youth reach their potential, students in Grades 10 to 12 are immersed in an award-winning, one-month enrichment program focused on STEAM: science, technology, engineering, arts and math. The students interact with renowned university faculty and visionary corporate leaders. In a unique element of the program, the students are challenged to come up with an original solution to a societal problem they learn about in the first week. It teaches them about entrepreneurship and innovation and leaves the students seeing how they can make an immediate impact. The president and CEO of SHAD, Tim Jackson, is ecstatic the program has now expanded to a record 13 host campuses across Canada. He says his number one goal is to make SHAD, as well as the bursaries which enable some students to attend, available and accessible to every deserving student across the country. Mr. Jackson says last year the New Brunswick government announced a $750,000 investment over five years. That has helped SHAD create a double cohort with a record 80 top students from around the country participating at SHAD UNB and being introduced to leaders in the innovation and entrepreneurship ecosystem. "I've seen the difference SHAD can make to help youth realize their potential. It is not only great for them as individuals. Being part of this network is great for the province and the country as a whole." Chloe Brooks grew up on the St. Mary's Reserve in Fredericton and is hoping to become the first in her family to attend post-secondary education. She says going to SHAD Saskatchewan will help her become a role model in her community. "I never expected this chance to participate in such an amazing experience. I am doing this not just for myself but for other First Nations youth," Ms. Brooks says. She adds, "I would like them to witness an average kid from their community make it as far as possible." When the program ends on July 28, the students become part of an important network of close to 16,000 alumni including 32 Rhodes Scholars and leaders in many fields.
About SHAD
SHAD
produces leaders for Canada through its award-winning, life-changing, pan-Canadian enrichment platform for high school students. Every year, SHAD helps 800 young Canadians tap into their full potential through an innovative month-long program at one of 13 partner university campuses. There, students apply STEAM (science-tech-engineering-arts-math) disciplines to real-life public policy and entrepreneurial challenges, forging insights and valuable relationships for life. Among its thriving global network of close to 16,000 SHAD Fellows and innovators are 32 Rhodes Scholars, 80 Loran Scholars, and 43 Schulich Leaders. For more information or to set up an interview with a student in your area, please contact Teddy Katz, Vice President, Media Relations at
teddy@shad.ca
or call 647 505 8095.