UNB Varsity Reds hockey player named a top Canadian university athlete
Author: Communications
Posted on May 2, 2017
Category: UNB Fredericton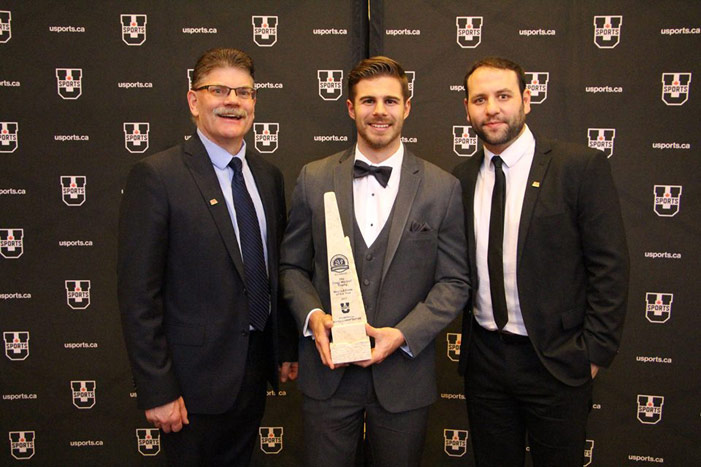 University of New Brunswick Varsity Reds hockey player Philippe Maillet has been named winner of one of two 2017 BLG Awards, recognizing the top male and female university athletes in Canada.
"I had to take a breath and get up slowly," Mr. Maillet said about hearing his name called at a ceremony in Calgary on May 1. "It's a surreal feeling to be voted the top male athlete in Canadian university sport in 2017. It's a select club and I'm just happy to join it."
"You've got to look at the overall picture, that you're one of the top four athletes in the country, from every sport, so it's a victory there," said Mr. Maillet. "This is the ultimate award, though, and there's so many people behind it and I'm as happy for me as I am for everyone that is here and my teammates and coaches."
Mr. Maillet is the second Varsity Red to win a BLG Award, joining current UNB Hockey associate coach Rob Hennigar, who won in 2008.
"We're so thrilled that Philippe has been recognized as this country's top male university athlete. This is an award so richly deserved," said University of New Brunswick president Eddy Campbell. "It speaks to his passion and dedication for the game. It also is a proud reflection of the strength our university's athletic program."
Arielle Roy-Petitclerc, of Laval University's Rouge et Or women's soccer team, was also named a BLG Award winner.
Mr. Maillet was recognized following an impressive season that saw him score 23 goals and 32 assists in 30 regular season games, capturing the Atlantic University Sport and U Sports scoring titles.
The fourth-year forward was awarded the Senator Joseph A. Sullivan Trophy as the U Sports Player of the Year, named a U Sports and Atlantic University Sport First Team All-Star, and was the University Cup most valuable player as the Varsity Reds captured the team's second consecutive national championship.
Mr. Maillet, from Terrebonne, Que., is a two-time Atlantic University Sport most valuable player, a three-time Atlantic University Sport First Team All-Star and a two-time U Sports/Canadian Interuniversity Sport First Team All-Star. He's twice been named the University of New Brunswick's top male athlete, in 2014-15 and 2016-17.
He is the oldest of two children born to Mario Maillet, a recently retired Montreal firefighter, and Line Richard, a home-based consultant.
Upon completion of the Varsity Reds season, Mr. Maillet signed a contract with the Ontario Reign, of the American Hockey League, the top farm team of the NHL's Los Angeles Kings. The Reign are currently involved in the AHL's Calder Cup playoffs.
"On behalf of BLG and the Canadian Athletic Foundation trustees, I would like to congratulate Arielle Roy-Petitclerc and Philippe Maillet, the winners of the 25th anniversary of the BLG Awards," said Doug Mitchell, national co-chair of BLG. "The eight student athletes who were nominated are all outstanding in their sport. I congratulate all the nominees for their great accomplishments."
"The BLG Awards represent the highest honour for our student athletes. This year's national nominees are not only exceptional athletes, they are also tremendous ambassadors for the entire U Sports membership," said Graham Brown, chief executive officer of U Sports. "On behalf of U Sports, congratulations to Arielle and Philippe and I wish to extend our sincere appreciation to our long-standing partners at BLG for their ongoing support and belief in university sport in Canada."
About the BLG Awards
The BLG Awards were established in 1993 to recognize the top female and male athletes from universities affiliated with U Sports. The awards are based on athletic accomplishments, outstanding sportsmanship and leadership. Each of the 56 U Sports schools nominates one female and one male athlete of the year. From these nominees, one female and one male athlete are chosen within each of the four conferences: Atlantic University Sport (AUS), Réseau du sport étudiant du Québec (RSEQ), Ontario University Athletics (OUA) and Canada West Universities Athletic Association (CWUAA). To be eligible, a student athlete must have competed in a U Sports-sanctioned sport for a minimum of two years and cannot be a previous recipient of a BLG Award.
All nominees receive a commemorative gold ring and winners are presented with a trophy and a $10,000 scholarship to attend a Canadian university graduate school. Winners are selected by the Canadian Athletic Foundation (CAF), a not-for-profit board established for the purpose of administering the BLG Awards and protecting the integrity of the selection process. The CAF Board of Trustees consists of 19 members from five Canadian cities representing major corporations from across the country who are committed to ensuring that Canadian university athletes receive the recognition they deserve.
Media contact: Andy Campbell
Photo: Varsity Reds head coach Gardiner MacDougall, left, and associate coach Rob Hennigar, right, stand with 2017 BLG Award winner Phil Maillet, following Monday's awards ceremony, in Calgary. (Andy Campbell/UNB Athletics)