New 3D metal printing centre of excellence to revolutionize marine industry manufacturing
Author: Communications
Posted on May 25, 2017
Category: UNB Fredericton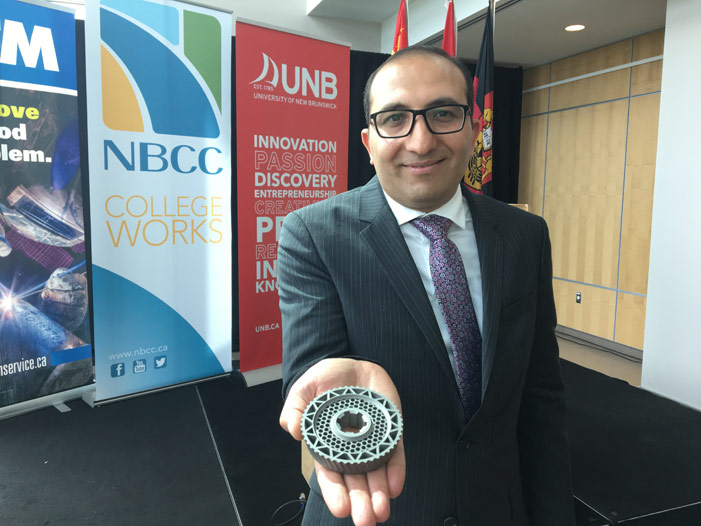 Today marks the launch of Canada's first research centre for 3D metal printing for the marine and defence industries. The new
Marine Additive Manufacturing Centre of Excellence
at the University of New Brunswick in Fredericton is the first of its kind in Canada to combine research, commercialization and workforce development and training. This initiative is the result of a partnership forged with the University of New Brunswick, Custom Fabricators and Machinists (CFM), and community colleges in New Brunswick and Nova Scotia. The multi-million-dollar centre is currently funded by Lockheed Martin Aeronautics and Irving Shipbuilding Inc. Dr. Mohsen Mohammadi, director of the Marine Additive Manufacturing Centre of Excellence and assistant professor of mechanical engineering at UNB, will lead the research and development component of the centre, with CFM partnering on commercialization. The New Brunswick Community College, Collège Communautaire du Nouveau-Brunswick and the Nova Scotia Community College, will lead workforce development and training. Lockheed Martin Aeronautics' $2.7-million contribution is a part of its industrial and regional benefits obligation to the federal government pursuant to its contract for the CP-140 Aurora Structural Life Extension Project. Irving Shipbuilding's $750,000 investment is a part of its Value Proposition commitments under the National Shipbuilding Strategy (NSS) – Canada's 30-year plan to renew the fleets of the Royal Canadian Navy and the Canadian Coast Guard. Irving Shipbuilding's investment led to additional public and private sector funding and in-kind support. The nearly $5-million centre is expected to triple its funding in the coming year with other partners coming on board. The centre will be the first in Canada to use 3D metal printing as a method for manufacturing certified, custom parts for the marine sector. Its mission is to ensure the adoption of this leading-edge technology in the marine sector in Canada by developing new methods, procedures, and effective training programs. This unique initiative will enable New Brunswick and Atlantic Canada to develop a core expertise in this emerging technology and help create the foundation for the next generation of manufacturing. By working closely together, the founding partners will ensure that this program has the best chance of succeeding long term in a globally competitive marketplace. An announcement was held today in The Richard J. CURRIE CENTER on the UNB Fredericton campus to officially launch the new Marine Additive Manufacturing Centre of Excellence.
Quotes
Navdeep Bains, Canada's Minister of Innovation, Science and Economic Development:
"The work that will be done at the Marine Additive Manufacturing Centre of Excellence will develop exciting new technologies and bring them to market. The investments by Irving Shipbuilding and by Lockheed Martin show how we can leverage military procurements to generate support for the new ideas and highly skilled workforce that will sustain our marine sector for years to come."
Stephen Horsman, Deputy Premier of New Brunswick:
"The Marine Additive Manufacturing Centre of Excellence will establish New Brunswick as a leader in additive manufacturing applications. We anticipate that many New Brunswick manufacturing companies will be able to work with the Marine Additive Manufacturing Centre of Excellence for applied research creating jobs and economic growth in the province."
Charles Bouchard, Chief Executive of Lockheed Martin Canada:
"We are very pleased to see our Industrial Technology Benefit supporting the creation of the University of New Brunswick's Marine Additive Manufacturing Centre of Excellence. Innovations such as 3D metal printing are the way of the future and Lockheed Martin is always looking at methods to increase our efficiency and effectiveness in the field of advanced manufacturing."
Allison McCain, Chancellor of The University of New Brunswick:
"Community collaboration and partnership on projects such as this allow the university to stimulate our province with new jobs and new industries.The University of New Brunswick has incubated more than 70 startups since 2013, enough for Startup Canada to pronounce us the most entrepreneurial university in Canada. It's fitting that Canada's first 3D metal printing centre of excellence for certified marine parts is housed here at UNB. The work Dr. Mohammadi and his colleagues are undertaking will have a significant impact on the marine industry and create new opportunities for our students."
Kevin McCoy, President of Irving Shipbuilding Inc.:
"Initiatives like the Marine Additive Manufacturing Centre of Excellence have the potential to change and advance the face of shipbuilding and other sectors in Canada. Our Value Proposition commitments allow us to invest in game-changers like this one and help achieve the National Shipbuilding Strategy's goal of creating a sustainable and vibrant Canadian marine industry."
David Saucy, Vice-President Construction and Equipment Division of J.D. Irving, Limited:
"As the commercialization partner, CFM is pleased to be hosting the 3D printing equipment at our facility, and we look forward to working with the community colleges to provide a hands-on classroom to train the next generation of skilled machinists and fabricators. We also look forward to working closely with Dr. Mohammadi and his team as we integrate this new technology into our existing global customer base as well as developing new markets in the growing marine manufacturing sector".
Mohsen Mohammadi, Director of UNB's Marine Additive Manufacturing Centre of Excellence:
"We're seeing more and more people show interest in coming to New Brunswick to be part of what we're doing. This is the first centre of its kind in Canada and we are doing it right here in New Brunswick. Our technology is greener and more efficient than conventional methods and will create high value jobs here in Atlantic Canada. I'm so grateful to our many commercialization, industry and training partners who have supported our work so far and I look forward to welcoming new participants in the future."
Marilyn Luscombe, President and CEO of the New Brunswick Community College:
"Our role in the Marine Additive Manufacturing Centre of Excellence puts NBCC at the intersection of two of our core values, embracing innovation and developing strong relationships. As a leader in workforce development and training, we will work with industry and researchers to position learners to be successful in this emerging field."
Photo: Dr. Mohsen Mohammadi, director of the Marine Additive: Manufacturing Centre of Excellence and master's student Carter Baxter examine a 3D printed metal component. The Centre will be the first in Canada to use 3D metal printing to create ship parts for the marine sector. Rob Blanchard/UNB
Media contacts