University of New Brunswick to host high school Brain Bee competition
Author: Communications
Posted on Apr 5, 2017
Category: UNB Fredericton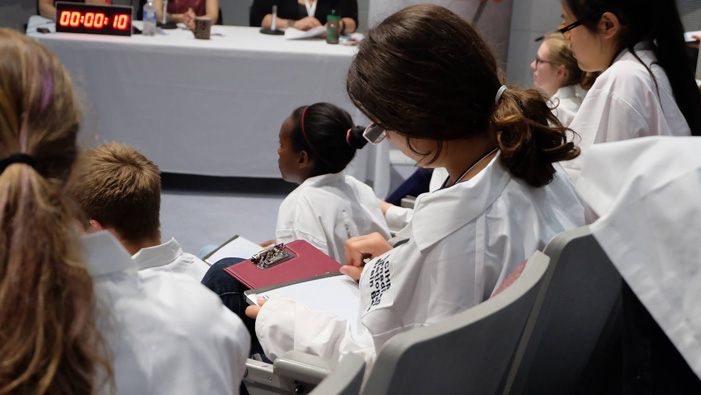 High school students from across the Maritime region will show off their knowledge of neuroscience at the first-ever University of New Brunswick Brain Bee and compete for an opportunity to attend the Canadian Institute of Health Research National Brain Bee.
The event is organized by UNB's department of psychology and will be held on Monday, April 10, from 9 a.m. to 4 p.m. on the UNB Fredericton campus.
"This is the first time a Brain Bee has been hosted in New Brunswick," said Dr. Nichole Scheerer, instructor with UNB's department of psychology and co-ordinator of the UNB Brain Bee event. "We're excited to give high school students from this region the unique opportunity to show off what they know about the brain and to explore their interests in neuroscience and related fields."
The Brain Bee competitions were founded in 1996 by the Society for Neuroscience to promote the study and research of the brain, said Dr. Scheerer. Like a spelling bee, Brain Bee competitors answer questions about the brain and neuroscience research. Topics include sleep, intelligence, emotion, stress, aging, brain imaging, and more. Participants are provided with study materials to help them prepare for the competition.
The winner of the UNB Brain Bee will receive a trophy, a Muse brain-sensing headband and personal meditation assistant, and round-trip airfare and accommodations to attend the Canadian National Brain Bee in Hamilton, Ont. in May.
The winner of the Canadian competition will move on to the 2017 International Brain Bee World Championship in Washington D.C.
"There is still lots of time to sign up for the UNB Brain Bee," said Dr. Scheerer. "We encourage any high school student who is curious about the brain or who has a passion for learning to register for this event. We hope this is a fun and educational day for all of our participants."
The UNB Brain Bee is open to all students in grades 9 through 12 from the Maritime provinces and participation is free. 
Dr. Sandra Byers, chair of the UNB department of psychology, said her department offers degrees with specialization in neuroscience and the Brain Bee is a natural fit at UNB.
"This is a great opportunity for new and potential students to learn more about UNB. Dr. Scheerer has planned a full day of neuroscience and psychology-related activities for UNB Brain Bee participants," said Dr. Byers. "They will have the opportunity to hear from neuroscience experts, meet researchers and current students, and experience life on the UNB Fredericton campus."
Media contact: Melissa Wah
Photo credit: Canadian National Brain Bee