University of New Brunswick professor nominated for prestigious Canada Prize
Author: Communications
Posted on Apr 7, 2017
Category: UNB Fredericton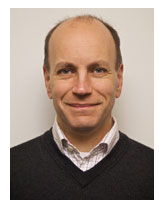 Dr. Donald Wright, associate professor of political science at the University of New Brunswick's Fredericton campus, has made the shortlist for the 2017 Canada Prize in the Humanities and Social Sciences for his book, Donald Creighton: A Life in History.
Professor Creighton, a historian who is considered to have written the definitive biography of Sir John A. MacDonald, saw his reputation greatly tarnished in his later years by his opposition to bilingualism and the transformation of Canada in the 1960s. Dr. Wright saw him as a way to look at nation through the lens of an individual who both lived and chronicled its history.
"He allowed me to understand that larger transition in Canada from a British country to a bilingual, multicultural country," said Dr. Wright. "The new flag, the end of the British connection, the Quiet Revolution, bilingualism – for Donald Creighton this was all just too much. And instead of going quietly into the night, he railed against the French, and he railed against the bloody Liberals, Lester Pearson and the new flag."
Dr. Wright's association with UNB goes back to 1999 where he began as a lecturer in the department of history. An earlier book, The Professionalization of History in English Canada was shortlisted for the Canadian Historical Association's Sir John A. MacDonald Prize in 2005. Dr. Wright's familiarity with writing a meta-historical work is evident in his approach to writing the biography of a historian and biography.
"Donald Creighton was a really very good writer and so I would steal shamelessly from him. But also some of the things he had to say were fundamentally wrong," said Dr. Wright.
The Canada Prizes are awarded annually by the Federation for the Humanities and Social Sciences to the best scholarly books in the field. The prizes – one for French works, the other for English – will be announced on April 10, and each will receive a $5,000 prize.
Dr. Wright, in search of what he calls "the elusive general reader," made an effort to write a book and not an academic monograph. Although he has produced a work that he is proud of, the nomination caught him off guard.
"I was surprised, but pleasantly surprised, that people recognized that my book was not a celebration of the great man, that it was quite a critical biography and that it wasn't only a study of Creighton's life, it was a study of larger themes in 20th-century English Canada."
Media contact: Colin Hodd