UNB entrepreneurial spirit shines at Breakthru competition
Author: Communications
Posted on Mar 24, 2017
Category: UNB Saint John , UNB Fredericton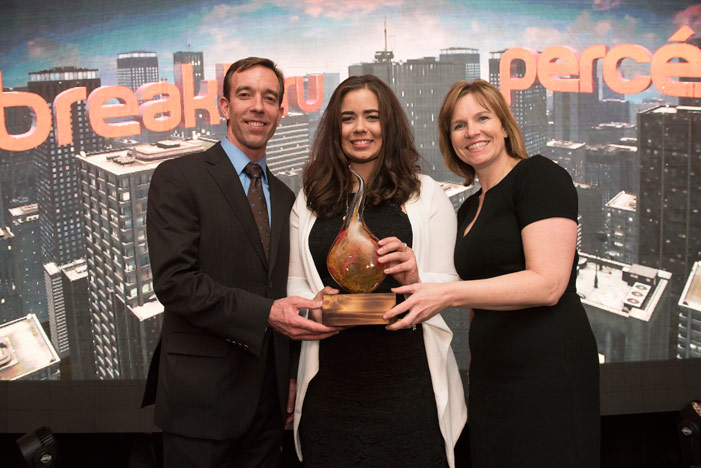 The University of New Brunswick's entrepreneurial spirit shined Thursday night as students, alumni and staff were among contestants vying for the top prize at the 2017 New Brunswick Innovation Foundation's Breakthru Competition.
Four UNB-connected companies came away as prize winners in the provincial category. The top prize in the category went to Pfera, which will get an infusion of nearly $375,000 in cash and professional services.
"We're so proud of everyone at UNB who has been involved with this incredibly strong showing at Breakthru," says University of New Brunswick President Eddy Campbell. "Not only is it a reflection of the passion, determination and ingenuity that is so pervasive here at UNB, but it speaks to the national-calibre entrepreneurial culture we've long had here."
The foundation's startup competition "encourages the creation and development of entrepreneurial, innovative business ventures in New Brunswick." Finalists competed for more than $1 million in prizes to help launch their business ideas.
They pitched their businesses to industry professionals earlier in the month and prizes were awarded at the March 23 Breakthru event.
Up-and-coming firms competed in either the provincial category or the newly-created national category. All five competing for prizes in the provincial category have connections to UNB:
Pfera: Provincial grand prize winner - $374,250
Pfera is an innovative rapid birth prediction management tool for pregnant mares. This breakthrough technology provides accurate and secure data right to the users' smartphone and is able to determine, down to the hour, when a mare will go into labour.
Lisa Pfister, who created Pfera, has two degrees from UNB – a bachelor's degree in engineering in 2015, followed by a master's in technology management and entrepreneurship.
"I am really humbled that so many people see the value in what I'm doing," says Ms. Pfister. "We are getting requests from around the world, and these investments will help us meet that demand. We have a lot of work to do!"
SomaDetect: Provincial runner-up - $180,000
SomaDetect is an agricultural technology company. It has developed a method to assess the fat content and detect signs of mastitis (an inflammatory disease affecting mammary gland and udder tissue in cow's milk) using light scattering. This gives dairy farmers information about the quality of milk and the health of their cows at each milking, reducing the spread of disease and maximizing profits.
Nicolas Clermont, the founder and chief operating officer, is also the SHAD youth engagement coordinator at the Pond-Deshpande Centre at UNB.
WEnTech: Provincial runner-up - $180,000
WEnTech is a cloud-based software that determines the best options for converting various types of waste – such as municipal, agricultural, forest, industrial – into energy. With the support of this technology, companies are able to make decisions related to converting biomass and waste into energy quickly and at a low cost.
Amir Akbari, a 2015 UNB masters of science graduate, and UNB PhD candidate Farough Motasemi had the idea for WEnTech when trying to find a way to convert a 25-year-old Iranian landfill into useful energy. Energy researcher Kevin Shiell and Dr. Kenneth Kent were brought on for their expertise. Dr. Kent, director of the IBM Centre for Advanced Studies at UNB, was brought onboard for his software development knowledge, and officially joined the company last October.
"Being recognized as a finalist in the Breakthru competition is very rewarding," says Dr. Kent, WEnTech's expert in software systems. "For WEnTech, it is a validation that the vision and hard work that we have is being recognized and shared by others. Not just in sharing the vision of being financially successful, but also making a positive impact on the environment."
Quber: Viewers' Choice award - golden ticket to Dragon's Den audition
Quber took the age old concept of "savings jars" and made them digital. With Quber users can create saving goals and in app challenges encourage them to succeed by reducing their spending on non-essentials. The money they save is directed into in their digital "savings jar" to help them achieve their goals.
"We are excited and proud to be selected as a Breakthru finalist," says Quber co-founder Jen Leger, who graduated from UNB in 2001 with a bachelor of computer science degree. "This competition has been excellent for building our network and getting the word out about Quber. We've had a number of eager consumers sign up for early access to our app, and we always welcome more."
Launching something like Quber requires cross-disciplinary knowledge and flexibility. Ms. Leger feels that her time at UNB gave her the combination of skills and experience that have helped her succeed.
"The computer science program gave me the foundation I needed to be able to work in different industries such as telecom, health, gaming and finance," says Ms. Leger. "And the co-op program had an immense impact as I was able to get real-life applicable experience while studying."
EhEye: Provincial finalist
EhEye improves public safety and security using artificially intelligent video analytics, automating the extraction of objects, person, activities and behaviours of interest from streaming video.
James Stewart, CEO of EhEye, is a three-time graduate of UNB, earning his bachelor of science degree in 1997, followed by a master's in computer science in 1999 and then his doctorate in 2017, all from UNB.
"The Breakthru competition has provided invaluable business development and venture capital training," says Dr. Stewart, who is also an instructor in UNB's faculty of computer science.
Media contact: Colin Hodd
Photo: Calvin Milbury, President/CEO of the NBIF, Lisa Pfister, Pfera (Grand prize winner) and Cathy Simpson Chair of the NBIF board.