UNB and Kent help community in France celebrate Year of Canada
Author: Communications
Posted on Mar 27, 2017
Category: UNB Fredericton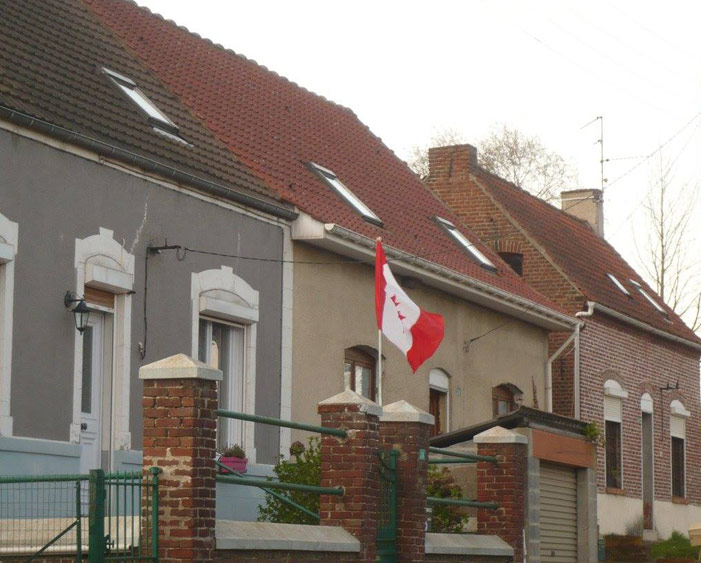 The University of New Brunswick and Kent Building Supplies are helping a small community in France celebrate its Year of Canada.
UNB's Gregg Centre for the Study of War and Society and Kent have sent 500 Canadian flags to Givenchy-en-Gohelle, a small farming village in France. The mayor of Givenchy-en-Gohelle, Pierre Senechal, has declared 2017 the Year of Canada in his community as a thank you to Canada for its role in liberating the village from German occupation during the Battle of Vimy Ridge.
As part of its celebration, every household and business in Givenchy-en-Gohelle will display a Canadian flag on its property.
"Our entire village, throughout 2017, will live all things Canadian," says Benoit Szatkowski, president of the Year of Canada/Année du Canada Givenchy 2017 committee. "Our community wants to pay tribute to the brave Canadian soldiers who liberated our village in April, 1917. We have a number of activities planned throughout the year and our organization will take great care to ensure that each and every resident of Givenchy-en-Gohelle participates and shares in this commemoration."
On March 27, residents of Givenchy-en-Gohelle and members of UNB, and the surrounding community, spoke together via videoconference. The mayor of Givenchy thanked UNB and Kent for the flags, and expressed his gratitude to Canada.
"The Flags for Vimy project serves as a reminder to all of us of the special relationship that exists between France and Canada, one that has profoundly deepened through two destructive world wars, and one that remains strong to this day," says Gregg Centre Director Marc Milner. "Two New Brunswick infantry battalions played central roles in the assault on Vimy Ridge. Among them were UNB alumni, so it's fitting that once again New Brunswick, and UNB, are lending a hand to Givenchy-en-Gohelle – this time for a happy occasion."
"We are very pleased to support this this special project to honour Atlantic Canadians who served at the historic battle of Vimy," says Adam Newhouse, marketing manager for Kent. "For the men and women at Kent, this is also an opportunity to recognize and thank those who bravely serve Canada today – many of whom are the friends and family members of our employees."
One hundred years ago, during the spring of 1917, Canadian soldiers were given the order to seize Vimy Ridge, France, and drive out German forces entrenched there almost continuously since the beginning of the First World War. On April 9, the soldiers stormed the ridge and liberated their French allies – 3,598 Canadians were killed and about 7,000 were injured. The town of Givenchy-en-Gohelle was on the front line between German and allied forces and is the site of the Canadian National Vimy Memorial in France.
Since 2008, the Gregg Centre has been involved in the delivery of teachers' professional development study tours in France and Flanders. During that time, hundreds of high school teachers from across Canada have visited such sites as Vimy, Ypres, Passchendaele, Dieppe and the landing beaches in Normandy, to learn about the latest research on the wars by professional historians, and to gain insight on the latest pedagogical thinking at the elementary, middle and high school levels. Givenchy-en-Gohelle was one of the communities that the teachers group visited last July.
Media contacts
Natalie Montgomery, UNB Communications, (506) 458-7215, nataliem@unb.ca
Cindy Brown, UNB Gregg Centre, (506) 453-4771, cins@unb.ca
Mary Keith, Vice President Communications, JDI, (506) 650-8209 cell, keith.mary@jdirving.com