UNB alumnus awarded prestigious Marie Curie Fellowship from European Union
Author: Communications
Posted on Mar 3, 2017
Category: UNB Fredericton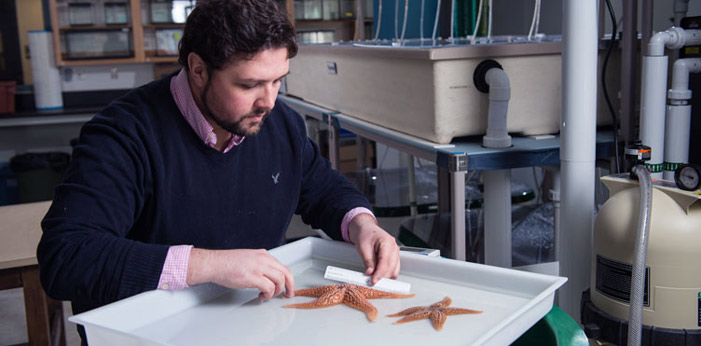 Photo credit: Joy Cummings / UNB Photo
University of New Brunswick alumnus Dr. Jeff Clements has been awarded the prestigious Marie Skłodowska-Curie Individual Fellowship from the European Union (EU) to conduct postdoctoral research in Europe. The fellowship, which allows researchers to study in EU and EU-associated countries, supports "the best, most-promising individual researchers from anywhere in the world" and is worth more than $275,000.
"It's surprising and quite overwhelming," says Dr. Clements. "I never really expected to receive such a prestigious award from an overseas nation."
The award, which is for two years, will support Dr. Clements' research on the effects of ocean acidification and warming on the social behaviour of marine animals.
"Animal behaviour is an important aspect of ecology because the ways in which animals interact with one another can determine how entire biological communities and ecosystems function. The research that this grant will allow me to conduct will help us understand how these biological interactions might be changed under future ocean conditions and will shed light on how ecosystems might function as a result."
Dr. Clements obtained his PhD in marine biology from UNB Saint John last October. During his time at UNB, he worked under the supervision of Dr. Heather Hunt where he studied how acidic conditions in intertidal marine sediments could impact the digging behaviour and persistence of baby soft-shell clams in mudflats of the Bay of Fundy.
"It's fantastic that he received this award," says Dr. Hunt. "Jeff was a really strong PhD student and I'm not surprised that he's gone on to get this award. He's definitely going places with his research and I expect he will have a very successful career."
Prior to coming to UNB, he graduated with a bachelor of science (honours, Biology) and bachelor of arts (psychology) from Cape Breton University. Dr. Clements says that "the emphasis that UNB places on research really allowed me to shine as a PhD student and has provided me with the skills and competence necessary to excel as a world-class researcher."
Dr. Clements will be conducting his research between the Norwegian Institute of Science and Technology in Norway and the University of Gothenburg in Sweden.
Media contact: Claire Geldart