Meags Fitzgerald to read as part of UNB Saint John s Lorenzo Reading Series
Author: Communications
Posted on Mar 20, 2017
Category: UNB Saint John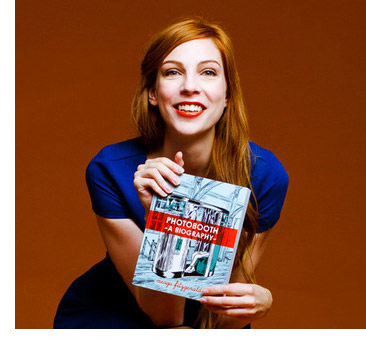 Award-winning illustrator, graphic novelist and stop-motion animator Meags Fitzgerald will read from Photobooth: A Biography on Thursday, March 30 at 7 p.m. in the Ganong Hall Lecture Theatre on UNB's Saint John campus.
For almost a century, chemical photo booths have occupied public spaces, giving people the opportunity to quickly take inexpensive, quality photos. In the last decade these machines have started to rapidly disappear, causing an eclectic group of individuals from around the world to come together and respond.
Illustrator, writer and long-time photo booth lover, Meags Fitzgerald has chronicled the photo booth's fortuitous history and the events which gave rise to the desperate need to save them. Having traveled in North America, Europe and Australia, she's constructed a biography of the booth through the eyes of technicians, owners, collectors, artists and fanatics. In this ground-breaking book Fitzgerald struggles with her own relationship to these fleeting machines, while looking to the future.
Meags Fitzgerald is a Montreal-based artist whose talents also include improv comedy and live storytelling. In 2009, Fitzgerald earned a bachelor of fine arts in drawing from the Alberta College of Art & Design. In 2012, she completed a post-degree certificate in design from the Nova Scotia College of Art & Design University.
Fitzgerald won the 2015 Doug Wright Spotlight Award and was nominated for the 2015 Joe Shuster Award in the Best Cartoonist Category. She also received an honorable mention at the 2015 Expozine Awards for Best Book.
In July 2014, Fitzgerald was named one of CBC's 2014 "Writers to Watch" and in 2015, was voted Montreal's 4th Best Comic Artist by Cult MTL readers.
The Lorenzo Reading Series acknowledges the support of the League of Canadian Poets, UNB Saint John, UNB Saint John Bookstore, Canada Council for the Arts and its private reading sponsors.
Media contact: Claire Geldart
Photo credit: Nathan Boone