Historic love letters from famous Canadian poet find a home at the University of New Brunswick
Author: Communications
Posted on Feb 10, 2017
Category: UNB Saint John , UNB Fredericton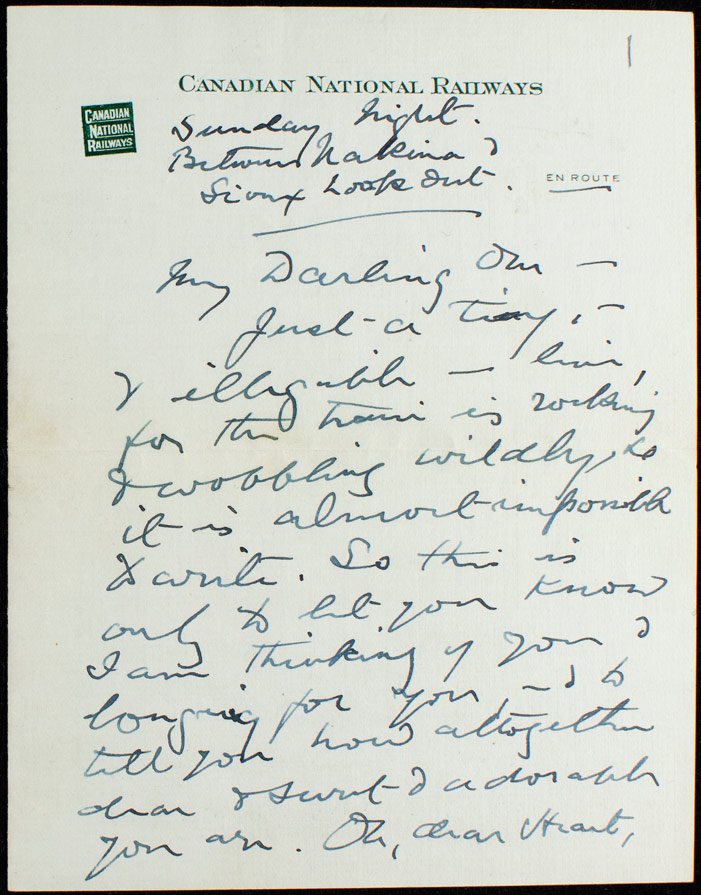 Digital copy of letter from CGD Roberts to E Smith 10 November, 1926. Evelyn Smith Acquisition 2016.032 (Credit UNB Archives & Special Collections)
A collection of romantic letters written by Sir Charles G. D. Roberts, who is considered to be the father of Canadian poetry, has found a new home in the University of New Brunswick Archives and Special Collections.
Mr. Roberts was known to have had several romantic liaisons and much of what is known about these relationships has come from his correspondence with each of his paramours. These new letters, however, identify a previously unknown character in his life, Evelyn Smith.
These new letters will be presented to the public for the first time on Tuesday, Feb. 14, Valentine's Day, at 11 a.m., in the Beaverbrook Room, Harriet Irving Library, on UNB's Fredericton campus.
"Not only do the letters fill in gaps of the records, they identify somebody who had never been positively identified before now. They also fall into a tradition of Canadian poets writing love letters," said Francesca Holyoke, head of the UNB Archives & Special Collections department of the UNB Libraries.
This acquisition includes approximately 50 letters all addressed to Ms. Smith, along with some photos of Mr. Roberts and copies of his poetry. Little is known about Ms. Smith and how she met Mr. Roberts. From his letters, it is clear that she lived in Toronto, where she also attended university and later moved to Pennsylvania. It is also believed there was a 40-year age difference between the two.
Many of the letters include passionate endearments towards Ms. Smith. In them, he calls her my dear, my love and my darling. He writes about missing her and dreaming of her. In one letter, he says, "I have absolutely nothing more to write about, except I love you more than ever."
UNB has the most extensive collection of items from Mr. Roberts, including family albums, letters, and much of his poetry. Ms. Holyoke says while there are similar letters in the UNB collections, the new ones are much more expressive and clear. They cover the period of time from 1926 to 1935, and many were written while Mr. Roberts was travelling.
Adding items to an existing archive is a rare opportunity, says Ms. Holyoke. These letters came to UNB from an auction house in Ohio. The university was able to acquire them through a special donor fund established for the archives and special collections.
Mr. Roberts was born in Douglas, N.B. and graduated from UNB in 1879 and again in 1881 with a Masters of Arts. He also received an honorary doctor of laws degree from UNB in 1906. Throughout his career, he worked as a teacher, a freelance writer in New York and Europe and served in the First World War. He is also one of three poets recognized at UNB's Poets Corner of Canada, a designated historic site.
"With such an extensive collection of work by Mr. Roberts at UNB, it is the place to go to study him and the history of Canadian poetry," said Susan Montague, senior campaign adviser with UNB Development & Donor Relations. "Given that Mr. Roberts is a UNB alumnus and with his influence on the Canadian literary world, we are excited to add these letters to our archives."
Ms. Holyoke says the archives also benefit current students, as they offer a unique opportunity to access and study primary sources.
"The archives provide a richness of experience for our students, they can come here and work with these original materials. That is what it means to be part of a university and academic community," said Ms. Holyoke.
Media contact: Melissa Wah