UNB welcomes two appointments to the faculty of law
Author: Communications
Posted on Jan 27, 2017
Category: UNB Fredericton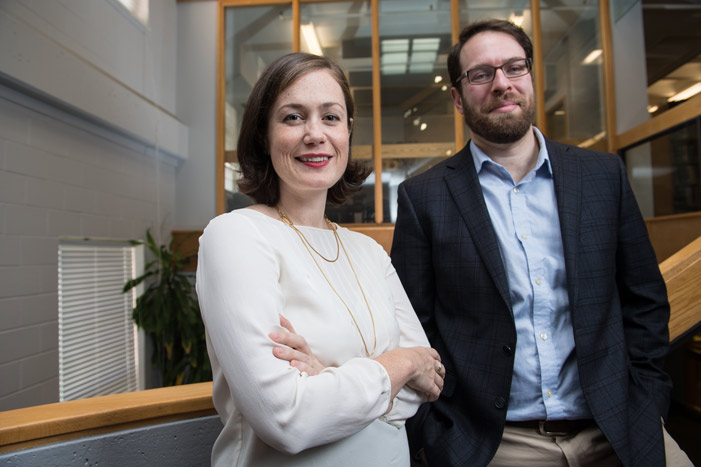 New additions to UNB Law – "Canada's great small law school" -- professors Michael Marin and Jane Thomson (Rob Blanchard Photo UNB)
John Williamson, dean of the faculty of law at the University of New Brunswick, is pleased to welcome Jane Thomson and Michael Marin, two young and accomplished legal scholars, to "Canada's great small law school."
"I'm delighted to have such high-quality professors join us, and am confident that these new faculty members will contribute to furthering the success of our faculty," says Dean Williamson. Both began their teaching careers at UNB this month.
For this talented, married couple, moving to New Brunswick with their two young children is an excellent opportunity from both a professional and personal standpoint.
Prof. Thomson grew up in Fredericton, where her mother still lives. She received her law degree from Dalhousie University before clerking at the Ontario Court of Appeal and the Supreme Court of Canada. Prof. Thomson also attended Harvard Law School, where she received her LLM.
Before joining UNB's faculty of law, Prof. Thomson practised family law in Toronto and Ottawa, and taught part time at the University of Ottawa in the areas of wills and trusts. "At that point in my career, I really decided that I wanted to teach full time…so I decided, while I was on maternity leave with our first child, to go back and do a PhD in law."
Currently, Prof. Thomson is a doctoral candidate at Queen's University. She was awarded a prestigious Vanier Scholarship in the fall of 2016. Her PhD research explores the use of private law to effect social and economic justice traditionally pursued through channels of public law.
"I'm really interested in looking at underdeveloped, underutilized areas of the law to effect social justice and legal reform," she says.
Originally from Montreal, Prof. Marin received his law degree from the University of Ottawa and an LLM from the University of Cambridge, as a Gates Scholar. He practised corporate and commercial litigation in New York City before returning north to clerk at the Supreme Court of Canada – where he and Prof. Thomson met.
Before joining UNB Law, Prof. Marin was a full-time faculty member at the University of Ottawa. With regard to UNB, "the faculty has an amazing history and legacy – it's produced some of Canada's leading lawyers and scholars," says Prof. Marin.
"The more I learned about it, the more I thought that I could contribute and also gain a lot from working here. The colleagues are wonderful, productive, excellent teachers and the more I get to know the students, as well, I'm impressed," he says. "So from a personal, but also a professional standpoint, it represented a great opportunity."
While at the University of Ottawa, Prof. Marin was the founding academic director of that university's Business Law Clinic. He is currently involved in the launch of a new clinical course at UNB, which will involve the placement of UNB law students with community organizations that offer legal services to those without access to them. UNB law students will provide these organizations with support while receiving practical experience before they graduate.
Both new members of UNB Law share a passion for teaching the next generation of lawyers, encouraging their students to think critically and creatively about the law, while providing eye-opening, real-world examples from their own experience.
"In doing that, I think the students start to really think like lawyers," says Prof. Marin.
Media contact: Claire Geldart