Emera funds Centre for Smart Grid Technologies at the University of New Brunswick
Author: Communications
Posted on Jan 27, 2017
Category: UNB Fredericton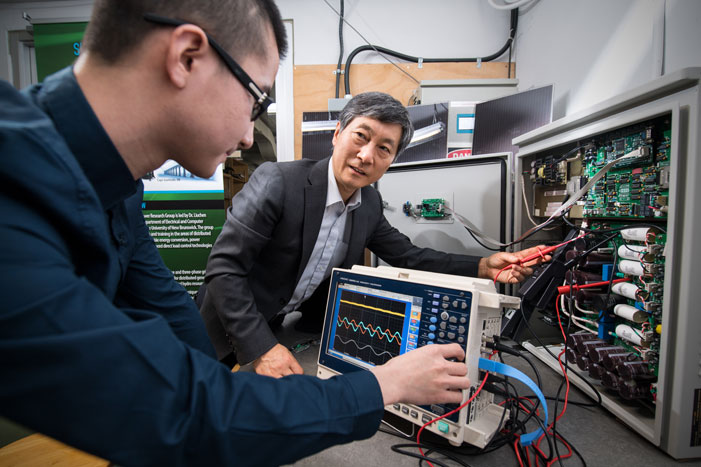 Emera Inc. is investing $6.2 million in the University of New Brunswick (UNB) to establish the Emera & NB Power Research Centre for Smart Grid Technologies.
The contribution will support an Emera Chair in Smart Grid Technologies at UNB, as well as provide direct funding for smart grid research. The Smart Grid Centre will facilitate industry partnerships and innovative applied research.
"Smart grid is the future of electrical power distribution," says UNB's President and Vice-Chancellor, Dr. Eddy Campbell. "This is a compelling example of a strong academic-industry partnership that will fuel innovation and growth in the economy. We are grateful for Emera's leadership and contribution to advancing research in this area."
Smart grid refers to modern electricity systems that have high levels of renewable generation and reliability, and low levels of carbon emission. Smart grid will empower consumers to manage energy use, including the ability to supply energy to the electric power system. Smart grid also enables the adoption of new technologies such as electric vehicles.
The Emera Chair will attract world-class expertise and engage in teaching and research that advances smart grid technologies. The Chair will also build partnerships and provide leadership in research activity that is both innovative and timely.
In its utilities throughout Atlantic Canada, the United States and the Caribbean, Emera has made significant progress in reducing the use of fossil fuels, increasing renewable resources and piloting smarter technologies for customers.
"Emera is focused on meeting customers' demand for cleaner forms of electrical generation and more efficient ways of delivering energy to market. Smart grid development is critical to this," says Chris Huskilson, president and CEO of Emera. "We're pleased to be partnering with UNB and NB Power on a project that will make such a difference in our energy future."
UNB has a unique combination of strengths in research, teaching and entrepreneurship that facilitates growth in this important sector of Canada's economy. Under the direction of Drs. Liuchen Chang and Chris Diduch, UNB's Sustainable Power Research Group helps utilities in the transformation of conventional electric power systems into low-carbon smart grids. UNB is a founding partner of the Smart Grid Innovation Network, and the Emera & NB Power Research Centre for Smart Grid Technologies will create new synergies and the opportunity to forge new research partnerships.
Dr. Diduch, dean of engineering at UNB, sees the Emera & NB Power Research Centre for Smart Grid Technologies as an indication of the strength of existing UNB research in the field. "UNB has worked diligently to create world-class research in smart grid technology. It is very gratifying when an industry leader such as Emera recognizes the progress we have made and the potential of what we can accomplish with a further investment in research capacity," Dr. Diduch says.
About UNB
The University of New Brunswick (UNB) is Canada's oldest English-language university. Founded in 1785, the multi-campus institution has a rich history and a dynamic focus on innovation, experiential learning and entrepreneurship. UNB has more than 10,500 students from nearly 100 countries while several thousand more take UNB courses online and at partner institutions around the world.
About Emera Inc.
Emera Inc. is a geographically diverse energy and services company headquartered in Halifax, Nova Scotia with approximately $28 billion in assets and 2015 pro-forma revenues of $6.3 billion. The company invests in electricity generation, transmission and distribution, gas transmission and distribution, and utility energy services with a strategic focus on transformation from high carbon to low carbon energy sources. Emera has investments throughout North America, and in four Caribbean countries. Emera continues to target having 75-85% of its adjusted earnings come from rate-regulated businesses. Emera's common and preferred shares are listed on the Toronto Stock Exchange and trade respectively under the symbol EMA, EMA.PR.A, EMA.PR.B, EMA.PR.C, EMA.PR.E, and EMA.PR.F. Depositary receipts representing common shares of Emera are listed on the Barbados Stock Exchange under the symbol EMABDR. Additional Information can be accessed at emera.com or at sedar.com.
Media contacts
Dina Seely: Emera Inc. Corporate Communications, (902) 478-0080, dina.seely@emera.com
David Stonehouse: Senior Manager, Communications, University of New Brunswick, (506) 458-7925, david.stonehouse@unb.ca