Become a university student for a day UNB opens classes to the public
Author: Communications
Posted on Jan 27, 2017
Category: UNB Saint John , UNB Fredericton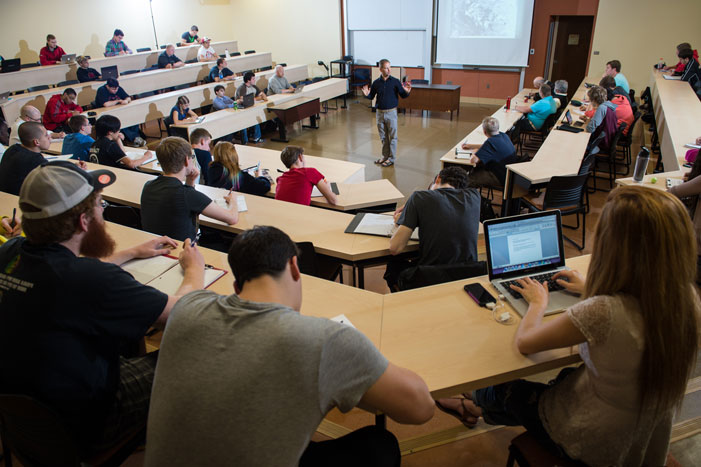 If you have ever wondered what it's like to be a university student, now is your chance. The University of New Brunswick is inviting high school students and community members to experience life on the Fredericton and Saint John campuses Jan. 30 and 31.
On the Fredericton campus, the faculty of arts is hosting an open classroom event. They are opening more than 20 classes to the public over the two days. Guests will also be able to sign up for campus tours during their visit.
Dr. Robert Gray, a filmmaker, author and UNB English professor, will again be opening his international film history class to all those who wish to attend. Last year, he welcomed several grade 11 students to this class.
During class, they watched a film and then worked together to analyze and discuss what they saw.
"This class is about how film is important to understanding ourselves, relating to others and finding compassion," said Dr. Gray. "Many of the high school students jumped right in and were excited to participate, I think they really took a lot away from the experience."
He added that while it is not yet well known, UNB has one of the best arts programs in the region.
"We have extraordinary people here, with internationally renowned authors, filmmakers, poets, researchers and teachers. The open classroom event is a great opportunity for the community to experience all that we have to offer."
Class offerings in Fredericton for the two days are wide-ranging, including Ancient Greek Warfare, Military History from Plato to NATO, and Introduction to Psychology. Participants are encouraged to register ahead of time to reserve a seat in their preferred class.
The Saint John campus will also be opening its doors to new and prospective students. Participants are invited to experience a full day as a UNB student, from sitting in on classes to visiting residence and eating at the meal hall.
"This is a great opportunity for prospective students to get a feel for life on campus," said Anthony Enman, UNB student recruitment officer. "For parents, if your child is feeling nervous or unsure about going to university, this is a great way to ease their worries, for them to get acquainted with the UNB campus and community."
UNB Saint John events will also include a photo scavenger hunt to help new students discover all that the campus has to offer and the possibility of winning a few prizes.
Recruitment officers will be available on both campuses to help with any questions and book tours. Participants are encouraged to register ahead of time for events on either campus, as classes may fill up quickly.
Media contact: Melissa Wah