The Peter Cundill Foundation provides support for students at University of New Brunswick's Centre for Financial Studies
Author: Communications
Posted on Apr 19, 2016
Category: myUNB , UNB Fredericton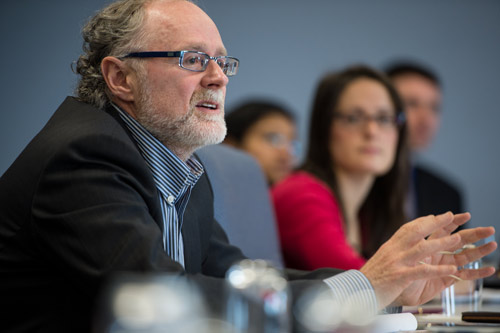 The Peter Cundill Foundation is making a three-year commitment to the next generation of investment managers with a $120,000 gift to the Faculty of Business Administration's Centre for Financial Studies (CFS) at the University of New Brunswick.
The support will bolster the operation of the Centre's Student Investment Fund, an academic program that provides experiential education for young investors that prepares them to excel in the profession. The funding will assist in areas such as scholarships, travel study, participation in international competitions, summer internships and special enhancement activities.
"We are thankful for this generous funding and we are proud of the students who make our program so successful," said CFS founding director Glenn Cleland. "Our students gain real-world perspective in managing the Student Investment Fund as well as gaining access to competitive environments that model the demands and pressures they will face when making decisions as a professional."
For more than 15 years, the Student Investment Fund has been the flagship program of the Centre for Financial Studies. The first of its kind in Atlantic Canada, it was launched in 1998 with a $1-million contribution from the New Brunswick Investment Management Corp. That investment grew to $8 million with a further injection of $2.5 million from UNB's endowment funds. It has been recognized internationally with a first-place finish at the Van Berkom Small Cap competition in 2015 and nationally as the only Canadian university to win the CFA Institute¹s North American Investment Research Competition, which occurred in 2008.
"The practical experience gained in SIF, alloyed with the strong academic foundation put us at an advantage," said Jeff Mott, who competed for UNB at the 2015 Van Berkom event. "It is a good feeling when the senior partner at one of the most successful asset management firms flat out tells us­ 'you guys nailed it'."
More than 200 highly motivated senior undergraduate and graduate students have completed the program, many of whom have gone on to become leaders in the investment profession.
"We are honoured that the Peter Cundill Foundation has shown faith in the Student Investment Fund and our students by providing a gift to assist in developing their skills in an experiential setting," said Eddy Campbell, UNB President and Vice-Chancellor. "This commitment demonstrates the value of strong partnerships which create these transformative opportunities that build a stronger university and a stronger province."
Established in 2012, The Peter Cundill Foundation honours the legacy of renowned Canadian investment fund manager and philanthropist, F. Peter Cundill, FCA, CFA, 1938-2011. The Foundation has an emphasis on promoting the health, education and wellbeing of young people.
Media contact: David Stonehouse