UNB economic class talks money with Minister of Finance Bill Morneau
Author: Communications
Posted on Jan 7, 2016
Category: myUNB , UNB Saint John , UNB Fredericton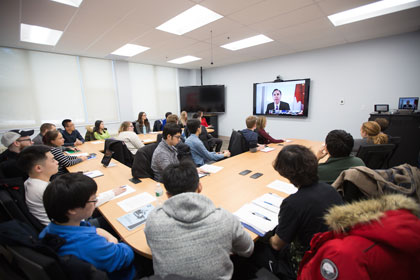 Approximately15 University of New Brunswick fourth-year economics students took part in a Google Hangout with federal Finance Minister Bill Morneau yesterday to discuss their priorities in this year's upcoming federal budget.
UNB was among eight universities across the country to participate in the Google Hangout where several university students posed questions to Minister Morneau about issues concerning them.
"It was really exciting to have the opportunity to speak one-on-one with the minister of finance," said UNB's Student Union President, Katie Davey. "It's encouraging to see consultation sessions like this happening, particularly for New Brunswick students, who are faced with the highest average student debt in the country."
Minister Morneau told students he hopes to do more of this type of thing in the future. "Our goal is to meet with as many people as we can across the country ahead of the delivery of our 2016 budget later this year."
"As a father of four, I can say with two kids in high school and two in university, I know how important it is to listen to your challenges. And more importantly, I think I have some context to understand the tremendous insight that you bring to the table," Minister Morneau added.
UNB's Vice President Academic (Fredericton) Jane Fritz says this was a wonderful opportunity for students and appreciates that the minister's office decided to kick-off their consultation sessions this way.
"We're very grateful to have the opportunity to participate in this," said Dr. Fritz. "What an invaluable opportunity for our students (both domestic and international) to get involved in the early stages of the planning process for our country's 2016 budget."
We welcome your feedback for the 2016 Budget. Also, you can post comments and questions on the Facebook page. The Minister will answer some of those questions during two Facebook Live events next week, Monday afternoon at Dalhousie University, and Friday afternoon at the University of Calgary.
Media Contact
Natasha Ashfield
Desk: 1-506-447-3012
Cell: 1-506-260-4851