UNB to host Scale Up Atlantic Canada Program to accelerate business growth
Author: UNB Newsroom
Posted on Dec 13, 2018
Category: myUNB , UNB Fredericton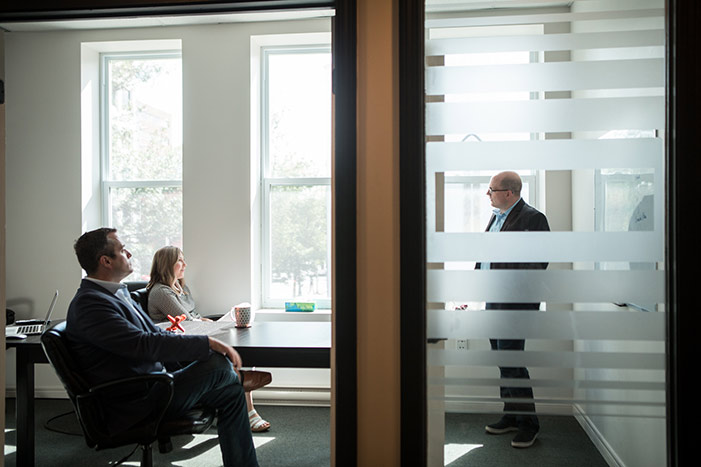 University of New Brunswick's J. Herbert Smith Centre for Technology Management and Entrepreneurship (TME), in partnership with the Government of Canada and Opportunities New Brunswick (ONB), is investing in the launch of an exciting new program to scale-up businesses in New Brunswick and other Atlantic provinces.
Scale Up Atlantic Canada is a unique program that helps companies grow and provides them with the expertise they need to take the next steps in their development. The program focuses on the three C's of growth: customers, capacity, and cash. Participating businesses will ready themselves for a rapid growth trajectory.
"We have many large businesses operating in New Brunswick and an exciting startup ecosystem comprised of great early-stage companies," says Dr. Dhirendra Shukla, professor and chair of TME at UNB. "There is, however, a bit of a gap in the centre."
Up to 20 companies from across the province and the Atlantic region will participate in the rigorous program hosted at UNB and lead by Dr. Daniel Isenberg and his team of professionals, who are primarily faculty from the Babson College in Wellesley, Mass. – the number one school for entrepreneurship in the United States.
The program, open to businesses in any sector, is backed by an impressive track record, having had success in many countries and jurisdictions including the United States, Columbia, Denmark, Panama, Brazil and Scotland.
"By helping companies scale up their businesses, the Government of Canada is standing by its commitments to drive expansion, innovation and exports," says the Honourable Navdeep Bains, Minister of Innovation, Science and Economic Development and Minister responsible for the Atlantic Canada Opportunities Agency. "The Scale Up Program will better enable companies to grow, succeed, and create more good, well-paying jobs. I am pleased that our government, through ACOA's Business Development Program, is contributing $350,000 to support the University of New Brunswick's Dr. J. Herbert Smith Centre for Technology Management and Entrepreneurship to lead this important initiative."
"Supporting our entrepreneurs and businesses through programs like Scale Up Atlantic Canada is an important part of the equation with our government's priority of energizing the private sector," says Honourable Mary Wilson, Minister of Economic Development and Small Business and Minister responsible for ONB. "The fact that this program is being offered at the University of New Brunswick is an added bonus, and speaks volumes about the culture of entrepreneurship and innovation in the province."
"It's essential that we assist New Brunswick's most promising companies in scaling up and meeting the demands of the modern economy," said Stephen Lund, CEO of ONB. "By developing an effective model to help these businesses expand, we are really going to move the needle on job creation and export growth in our province."
This type of investment builds on commitments made by the Government of Canada and the four Atlantic provinces to drive economic growth in the region through the Atlantic Growth Strategy, which supports strategic investments in initiatives that build on the region's competitive advantages such as its skilled workforce and export potential.
UNB, ONB and ACOA have partnered to fund this project because of the long-term positive impact scaling up can have for business, local communities, and the Atlantic region. There is no cost for application, however companies selected into the cohort will be asked to pay a program fee of $5,000.
The 2019 program will begin its first workshops in March at UNB and continue until September 2019. The commitment to in-class learning is a day and a half each month. Interested companies must meet the following criteria:
Annual revenues between $1 million and $15 million;
Participating owners/CEOs should have significant ownership in the company and a keen ambition to grow; and
Companies must be headquartered in Atlantic Canada.
Applications for entry into the Scale Up Atlantic Canada program are now open and weekly reviews of applications are being conducted.
Applications close on Jan. 4, 2019 and interested companies can contact Rachel Clarke at rachel.clarke@unb.ca.
Media contacts
Angie Deveau, Communications officer, UNB, 506-458-7925
Jeff Hull, Communications specialist, Opportunities NB, 506-453-8694
Paul CJ LeBlanc, Senior communications officer, ACOA, 506-452-3310
Photo:
Chris Griffiths, Bang On Photography