UNB Saint John to host new NB-IRDT satellite location
Author: UNB Newsroom
Posted on Dec 11, 2018
Category: myUNB , UNB Saint John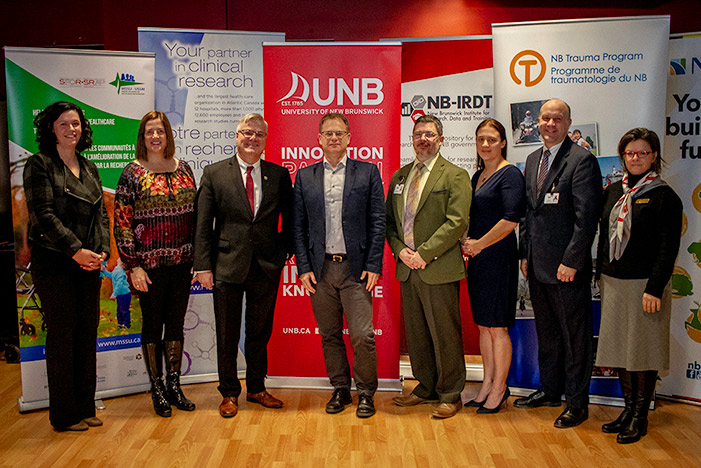 A new satellite location of the New Brunswick Institute for Research, Data and Training (NB-IRDT) has been launched on the UNB Saint John campus in what will soon be a shared facility with Statistics Canada Research Data Centre (RDC), expected to open next spring.
This is one of two similar locations – the other is located at Université de Moncton - to become the first data facilities of their kind in Canada to house both federal and provincial administrative data securely. UNB Fredericton hosts the main sites of these data centres in the province.
Serving as a research data centre for the province, NB-IRDT provides researchers with secure access to provincial administrative data allowing researchers to examine questions that will empower government to implement evidence-based policy, stretch public dollars, anticipate the needs of a changing population, and encourage growth.
"UNB Saint John is proud to offer this essential service for regional researchers and scientists," says Dr. Ruth Shaw, UNB project lead for health research initiatives. "We are committed to working with our local and provincial partners to improve the health of New Brunswickers."
"This is a major milestone for NB-IRDT," says Ted McDonald, NB-IRDT director. "From its inception, we and our government partners conceived of NB-IRDT as a resource for all of New Brunswick, even though data access was only available through our Fredericton facility. The opening of our satellite sites in Saint John and Moncton is tangible evidence of our commitment to that objective."
A recent collaboration between Horizon Health, the Maritime Strategy for Patient Oriented Research (SPOR) SUPPORT Unit, NB-IRDT and UNB is a prime example of the type of collaboration this new facility will make possible.
New Brunswick has the second highest percentage of persons 65 years of age and older in Canada. Falls are the second leading cause of accidental or unintentional injury deaths worldwide, with adults older than 65 suffering the greatest number of fatal falls. Hospital-related costs incurred by New Brunswick seniors with a fractured hip from a fall are estimated in the millions of dollars. Researchers are studying how to improve the health outcomes of older adults with isolated hip fractures. This type of research will provide findings that can help guide public policy and meet the needs of our province.
"We are very happy to see NB-IRDT expand its operations to Saint John and Moncton because it offers more opportunities for researchers and scientists to access this data," said Judy Wagner, Clerk of the Executive Council Office with the Province of New Brunswick. "This work, and the projects that result from it, will allow government decision-makers to adapt and improve our programs to provide the greatest benefit to the greatest number of people."
About NB-IRDT
NB-IRDT was established as a provincial data research centre in early 2015 through the collaboration of many New Brunswick government departments including the Department of Health; the Executive Council Office; Post-secondary Education, Training and Labour; Education and Early Childhood Development; and Social Development.
Media contact: Heather Campbell
Photo: (L-R) Donna Gates, Living SJ; Diane Burt, NBCC; Robert MacKinnon, UNB; Ted McDonald, NB-IRDT; Barry Strack, Regional Director, Horizon Health Network; Sarah Campbell, NB-IRDT; Ian Watson, NB Trauma Program; Laurelle LeVert, UNB