UNB ceremonies honour victims of the Montreal Massacre
Author: UNB Newsroom
Posted on Dec 6, 2018
Category: myUNB , UNB Saint John , UNB Fredericton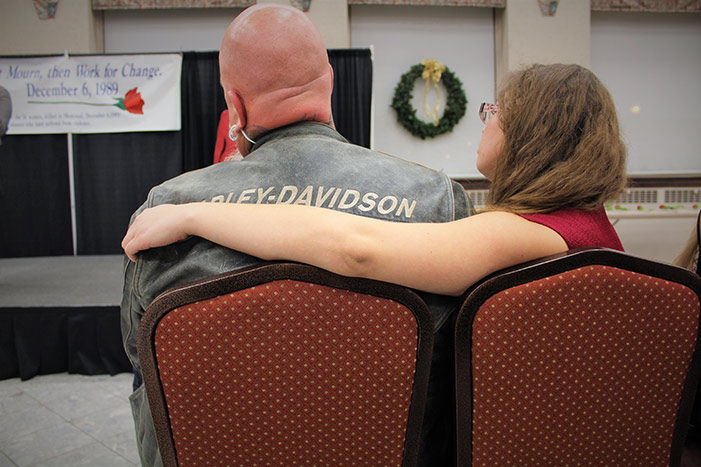 The University of New Brunswick is hosting two memorial events in Fredericton and Saint John to mark the National Day of Remembrance and Action on Violence Against Women and to remember the 14 women killed during the Montreal Massacre 29 years ago on Dec. 6, 1989.
Many of the young women whose lives were taken were engineering students.
"Each year, we remember the 14 women in engineering who lost their lives in an act of gender-based violence," says Diversity Within Engineering representative and Fredericton ceremony organizer Raiyan Mostofa. "The ceremony is a commemoration of those women and the people whose lives were impacted on Dec. 6, 1989.
"We also use this day as an opportunity to talk about the importance of women in fields where they are grossly underrepresented, like science, technology, engineering and math."
The Fredericton ceremony will feature presentations by Dr. Carmen Poulin, UNB psychology professor and associate dean of arts, Cathy Holtmann, UNB sociology professor and director of the Muriel McQueen Fergusson Centre for Family Violence, Maggie Forsythe, UNB Campus Sexual Assault Support Advocate, and Laura Shaw, a UNB engineering graduate and current engineer in training. It will take place today at noon in the Dineen Auditorium, Head Hall.
The Saint John ceremony will also be held today at 6 p.m. in the Mary Oland Theatre at the New Brunswick Museum. The ceremony was organized by various groups from the university and the greater Saint John community. It will feature talks by Jennifer McKenzie, a female engineer; Amanda Rogers will speak to issues surrounding violence against Indigenous women; Noha Eshra will present on issues facing Muslim women, and Paula Danaher will talk about transgender issues. Representatives from the Canadian Union of Public Employees, the Female Empowerment Movement and the Sexual Assault Response Team will also present.
Dr. Chris Doran, a professor of sociology at UNB's Saint John campus, is a member of the organizing committee. "Gender-based violence is still as prevalent today as it was in 1989, but now we are witnessing it in different forms, and against different communities," he says. "In response, our annual memorial service provides a platform and gives voice to those speaking out against such violence. Our speakers this year will address pressing current issues like violence against Indigenous women, violence against Muslim women, and violence against the transgender community."
Media contact: Hilary Creamer Robinson
Photo: Two attendees from the 2017 Montreal Massacre ceremony in Saint John listen intently to presenters. Credit: Chris Doran