UNBers to receive two New Brunswick Humanitarian Awards
Author: UNB Newsroom
Posted on Nov 13, 2018
Category: UNB Fredericton , myUNB , UNB Saint John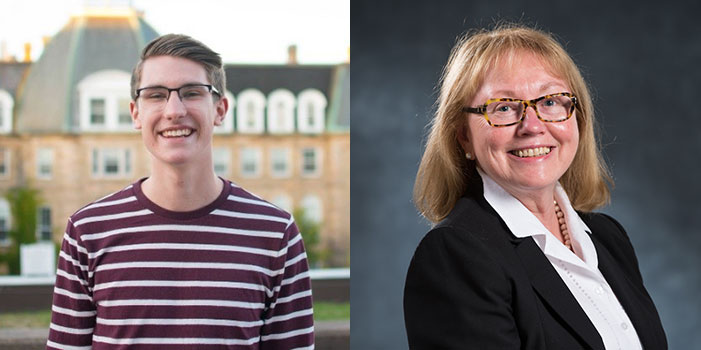 Austin Henderson and Roxanne Fairweather will be receiving New Brunswick Humanitarian Awards from the Canadian Red Cross on Nov. 14.
Mr. Henderson, a Lord Beaverbrook scholar, is currently in his final year of his bachelor of philosophy in interdisciplinary leadership at UNB's Renaissance College in Fredericton. He will receive the 2018 Young Humanitarian Award for New Brunswick.
Originally from Salisbury, Mr. Henderson is an advocate for positive masculinities and youth empowerment, who has experience in immigrant integration and global development.
Mr. Henderson has served as a legislative page with the Legislative Assembly of New Brunswick and is currently a constituency assistant with the Parliament of Canada for Fundy Royal.
As vice-president and board member of Canadian Parents for French New Brunswick, Mr. Henderson testified before the Senate Standing Committee on Official Languages in 2017.
In addition to his numerous current and former local volunteer positions, which include working for the New Brunswick Multicultural Council's Imagine NB Program, UNB SPRING (Student Pairings Reaching Individual Needs and Goals) and as a Red Shirt Orientation Leader for the UNB Student Union, Mr. Henderson also serves on Plan International Canada's Youth Advisory Council. He was selected as a 2017 EF Youth Ambassador to represent Canada at Vimy 100, has officiated minor hockey games for over 9 years and has served on the conference advisory committee for the Canadian Partnership for Women and Children's Health.
Mr. Henderson is also a member of the steering committee for a nation-wide program called Youth for Gender Equality. This program helps to engage youth-led dialogues with more than 20 organizational partners in order to create a national Sustainable Development Goal Plan on Canadian gender equality.
"Being involved in numerous capacities with Plan International Canada has enabled me to recognize and act on issues that are both global and local," he said. "The organization represents how young people can effectively and positively be engaged in youth governance and advocacy initiatives in meaningful, non-tokenistic ways."
Most recently, Mr. Henderson completed a two-month communications and research internship at the Deshpande Foundation in India.
"My interdisciplinary studies at Renaissance College have provided me with a rich learning environment, where I have learned a lot about others, and myself," said Henderson. "The program gives students the tools to become self-directed learners, through experiential opportunities. It is through these 'out-of-classroom' experiences that UNB has afforded me where I have felt the most growth."
Roxanne Fairweather, Governor Emerita of UNB's Board of Governors, will also be receiving the 2018 New Brunswick Humanitarian Award at this year's ceremony.
Ms. Fairweather has served on UNB's Board of Governors since 2003 and received an honorary doctor of letters at UNB Saint John's graduation last spring. She has done extensive advocacy work in early childhood literacy, anti-poverty and gender parity in New Brunswick. As co-CEO and co-owner of Innovatia Inc., Ms. Fairweather has a strong passion for education. By partnering Innovatia with the Elementary Literacy Friends Program, they have been able to focus on increasing literacy throughout New Brunswick by providing volunteer tutors to Grade 2 students.
As Mr. Henderson reflects on his award, he is humbled to be receiving such a distinction at the same time as Ms. Fairweather.
"Being recognized alongside such an incredible leader in her community, at the University of New Brunswick and beyond is truly an honour. Roxanne serves as an exemplification of how ideas can be transformed into action to make our communities a better place, one initiative at a time."
The Humanitarian and Young Humanitarian Awards are the only two awards presented at this annual event and are given annually to individuals from Atlantic Canada who have demonstrated the spirit of humanity, not only in the local and national scale, but also internationally.
Recipients of both awards demonstrate the 'spirit of humanity' by promoting peace and respect for human dignity and the protection of life. The award ceremony will take place on Wednesday, Nov. 14, at the Delta Hotel in Saint John.
Media contact: Angie Deveau
Photo credit: Austin Henderson – LinkedIn; Roxanne Fairweather – Joy Cummings/UNB.