UNB welcomes a new Vice-President of the Saint John campus
Author: UNB Newsroom
Posted on Nov 26, 2018
Category: myUNB , UNB Saint John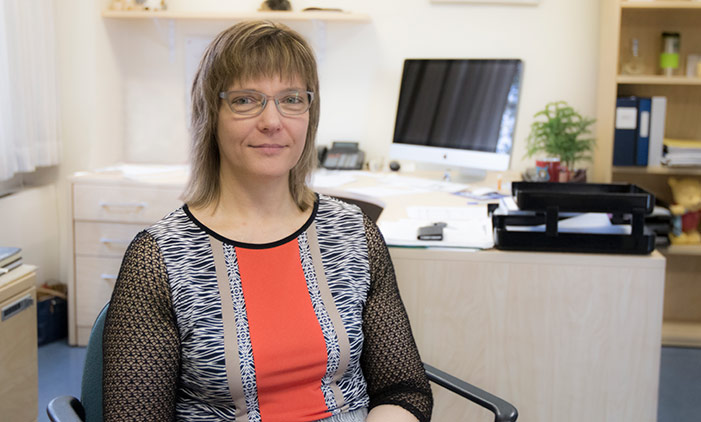 Dr. Petra Hauf will be joining the University of New Brunswick as Vice-President of the Saint John campus.
As an internationally renowned researcher, Dr. Hauf will build upon UNB's momentum as a global leader in research and continue to advance UNB as a research-focused institution.
Dr. Hauf is joining UNB from St. Francis Xavier University, where she is currently the dean of science. As a testament to her dedication and accomplishments in research, she became the dean of science despite being a full professor in the faculty of arts. Under her leadership, the faculty of science introduced several, very successful interdisciplinary programs.
"Dr. Hauf has an impressive record of achievement across academic programming, student experience and community service," says Dr. H.E.A. (Eddy) Campbell, President and Vice-Chancellor of UNB. "I am confident Dr. Hauf will grow and meet the evolving needs of our Saint John campus and bring forth a renewed energy and insight to UNB. I am pleased to welcome her to the UNB family."
Throughout her tenure at St. FX, she was appointed the Canada Research Chair in Cognitive Development, the former department chair in psychology, and has been the acting director of the Rankin School of Nursing.
Dr. Hauf hopes to develop strong partnerships and deepen the connection among faculty, staff and students to build a stronger sense of community both on and off campus. She feels that together, faculty, staff and students can create an inspiring and thriving environment that enhances overall campus life at UNB.
"I am incredibly excited to join the UNB community – to work with the faculty, staff and students across the Saint John campus in finding opportunities to engage in new approaches that have a significant impact on their academic experiences," says Dr. Hauf. "The vision of UNB as the university of choice for passionate minds inspires me and I am honoured to be a part of UNB Saint John's journey to become the most innovative and community-centered campus in Canada."
Dr. Hauf will begin her new role as the Vice-President Saint John in March 2019.
Media contact: Heather Campbell
Photo credit: St. Francis Xavier University