UNB researchers have moment in the spotlight on History Channel show
Author: UNB Newsroom
Posted on Nov 28, 2018
Category: UNB Fredericton , myUNB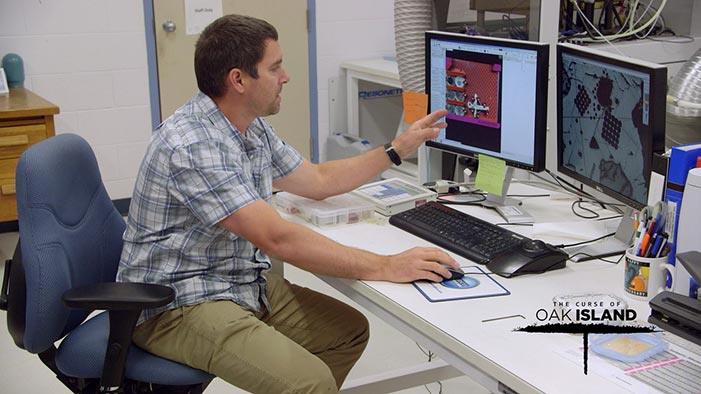 Two UNB researchers found themselves in the limelight this past summer when a Hollywood production company paid their research lab a visit.
Dr. Christopher McFarlane, professor of earth sciences and founder of the Laser Ablation Lab, and Brandon Boucher, the lab's research technician, were contacted by showrunners for the History Channel show The Curse of Oak Island. The documentary-style show, now in its sixth season, centers around Oak Island, a small island on the south shore of Nova Scotia that is believed to have buried treasure.
"The search team reached out to us because they came across a lead cross that they wanted to have analyzed. They wanted to know where it came, and possibly how old it is," says Dr. McFarlane, whose lab is based on UNB's Fredericton campus.
Though Dr. McFarlane and Mr. Boucher mainly specialize in analyzing rocks and minerals, they occasionally do steel, metals and alloys, and have even worked with the Nova Scotia Museum to analyze artifacts, like native copper, from archeological sites from around that province.
"If people want to know what's in a material, we can find out for them," says Dr. McFarlane.
Artifact analysis is a delicate business, says Dr. McFarlane. "If the item is anything of archeological importance, you're not allowed to damage it. The advantage of using the laser in our lab is that we liberate so little material that it's imperceptible to the human eye."
For the lead cross from Oak Island, the researchers measured lead isotopes to determine the source of the material.
"We didn't find out the age of the artifact, but based on our findings, we believe the lead is of European origin." Once testing was complete, Dr. McFarlane and Mr. Boucher had drilled a hole less than the width of a human hair and so shallow you would need a microscope to see it.
Dr. McFarlane says the Oak Island team was happy with the findings, and that they plan on doing more work with the laser ablation lab in the future.
"The whole experience was really professional and it was fun to see how the production team worked. My kids are totally into the show so when it aired we watched it together. It was very cool seeing how it turned out."
Apart from the thrill of being on television, both Dr. McFarlane and Mr. Boucher now both have credits on IMDb, an online database of film and television information, "so that's pretty cool," says Dr. McFarlane.
History Channel subscribers can watch the episode online.
Media contact: Hilary Creamer Robinson
Photo: Dr. Chris McFarlane testing the lead cross artifact found on Oak Island in the Laser Ablation Lab at UNB. Credit: Prometheus Entertainment.