Douglas Gibson to present as part of UNB Saint John's Lorenzo Reading Series
Author: UNB Newsroom
Posted on Nov 8, 2018
Category: myUNB , UNB Saint John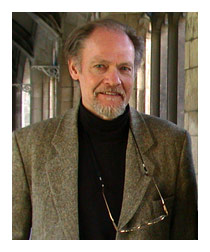 Author and raconteur Douglas Gibson will present GREAT SCOTS: Canadian Fiction writers with Links to Scotland, from 1867 to Today on Sunday, Nov. 18, as part of the Lorenzo Reading Series at UNB Saint John.
After performing more than 200 shows around the world about Canadian authors, Gibson has created this presentation in a PowerPoint format. The lively show involves dozens of excellent Anthony Jenkins caricatures of the selected fiction writers brought to the screen. During the 65-minute show, Gibson takes audience members though history, talking about the pictured storytellers against their historic background. For each author, the show will include a burst of music from his/her time, along with examples of the iconic works of art that were being produced then.
Douglas Gibson is an editor, publisher, writer and raconteur. He was born in Kilmarnock, Scotland in 1943 and raised in Scotland, and arrived in Canada in 1967. He spent his career as an editor and publisher, becoming what the Globe and Mail called "a publishing icon."
The Lorenzo Reading Series acknowledges the support of the Canada Council for the Arts, The League of Canadian Poets, UNB Saint John, UNB Saint John Bookstore, and its private reading sponsors.
Douglas Gibson will present on Sunday, Nov. 18, at 2 p.m. at the Saint John Free Public Library at Market Square.
For more information contact Andrea Kikuchi at (506) 648-5782 or email lorenzo@unb.ca.
Photo credit: The Writers' Union of Canada