OSCO funds research in off-site construction at UNB
Author: UNB Newsroom
Posted on Sep 6, 2018
Category: myUNB , UNB Fredericton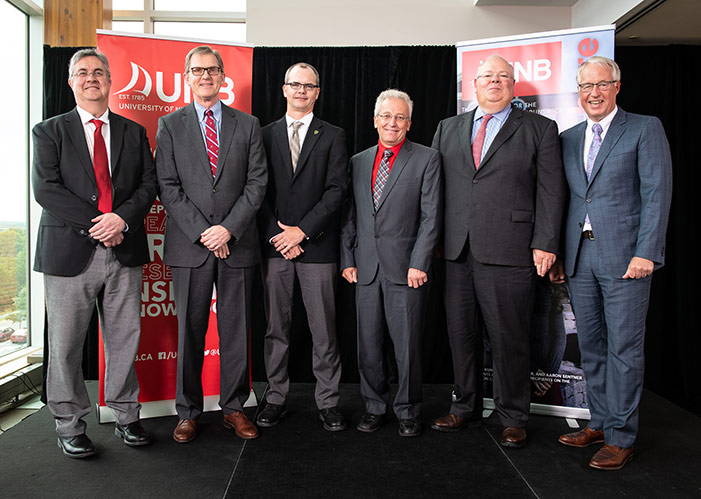 OSCO Construction Group is investing $2 million in the University of New Brunswick to establish a new Centre for Off-site Construction and to fund research led by the new OSCO Chair in Off-site Construction.
In contrast to conventional "stick-built" construction at a jobsite, off-site construction consists of planning, designing and fabricating building elements in a factory-controlled environment for rapid assembly in a "plug-and-play" fashion at the jobsite. Off-site building elements can incorporate a wide range of materials made into many sizes and configurations, such as individual components, flat-packed panels and volumetric room-size modules. They can be designed as both structural and enclosure systems integrated with multi-disciplinary functions, such as fire rating, thermal, air and vapor barrier, electrical, plumbing, HVAC, aesthetic effect and interior finish. This method of construction reduces waste, promotes sustainability, compresses time schedules and overall, results in better quality products.
The OSCO Chair in Off-site Construction will be a leading specialist in the field and build on the faculty of engineering's current strengths in civil engineering and related pre-manufacturing technology. He or she will seek opportunities for partnership within the university and with world-renowned construction experts.
"The University of New Brunswick and OSCO Construction Group share a vision to make New Brunswick a global leader in modular manufacturing and off-site construction," says UNB President and Vice-Chancellor Dr. Eddy Campbell.
"This partnership will bring UNB to the forefront of innovation in the world and increase product export opportunities for New Brunswick manufacturing companies. We are grateful for OSCO's leadership and contribution to advancing research in this area."
UNB boasts a unique combination of strengths in research, teaching and entrepreneurship that facilitate growth in this important sector of Canada's economy. Many civil engineering faculty members have international profiles, with expertise in the fields of construction, materials, structural, and transportation engineering.
Hans Klohn, president of OSCO Construction Group, believes that the investment in research at UNB will build critical capacity in this emerging area of construction. "OSCO is focused on creating more valued-added construction solutions and improving the overall construction delivery model for our customers," says Mr. Klohn. "Designs which can optimize both off-site manufacturing and on-site assembly are faster, cheaper, safer and better for the environment than using the traditional "stick-built" method. Contractors are moving to a technology-driven approach which utilizes standardized, factory-made elements that can be rapidly assembled into a customizable, attractive structure, much like the aerospace, car and shipbuilding industries. UNB is building innovative, applied research capacity in this area and we are pleased to partner with the university on this initiative."
Since 1955, OSCO and its group of companies have developed and produced architectural, structural and other construction-related products and services to meet the individual needs of clients. The group has manufacturing and field operations in steel, concrete, aggregates and construction. It has grown to become the largest precast, prestressed concrete manufacturer in Eastern Canada. Its geographical markets cover Canada, the eastern seaboard of the United States, and Bermuda.
Dr. Chris Diduch, dean of engineering at UNB, sees the investment in off-site construction research as an indication of the strength of existing UNB research in the field. "UNB has worked diligently to create world-class research in the department of civil engineering," says Dr. Diduch. "It is very important when an industry leader such as OSCO recognizes and affirms the progress we have made and the potential of what we can accomplish with a further investment in research capacity."
 About the University of New Brunswick
The University of New Brunswick (UNB) is Canada's oldest English-language university. Founded in 1785, the multi-campus institution has a rich history and a dynamic focus on innovation, experiential learning and entrepreneurship. UNB has approximately 10,500 students from nearly 100 countries while several thousand more take UNB courses online and at partner institutions around the world. UNB contributes significantly to the province with an annual economic impact of $1.2 billion on the provincial economy - equivalent to 4.5 per cent of the gross domestic product of New Brunswick.
About the OSCO Construction Group
The OSCO Construction Group is a collection of companies operating in concrete, steel and construction. OSCO has been in business since 1955, and serves a variety of markets throughout Canada, the Eastern US, and the Caribbean. The Group is based in Saint John, New Brunswick, and operates offices and plants in New Brunswick, Nova Scotia, Prince Edward Island, Maine, Massachusetts and New York. Member companies include:
Concrete: Strescon, Borcherdt, OSCO Concrete and OSCO Aggregates;
Steel: Ocean Steel, Ocean Steel Rebar, Allstar Rebar and York Steel
Construction: Marque Construction and FCC Construction
Media contacts
Photo:
(L-R) Eddy Campbell, President and Vice-Chancellor, UNB; Hans O. Klohn, President, OSCO Construction Group; Jeff Rankin, Chair of Civil Engineering, UNB; Chris Diduch, Dean of Engineering, UNB; John K.F. Irving, Chairman and CEO of OSCO Construction Group and President of Ocean Capital Holdings Limited; Bob Skillen, Vice-President (Advancement), UNB.