Versatile innovations in skin care and maternity wear to launch at Summer Institute showcase
Author: UNB Newsroom
Posted on Jul 19, 2018
Category: myUNB , UNB Fredericton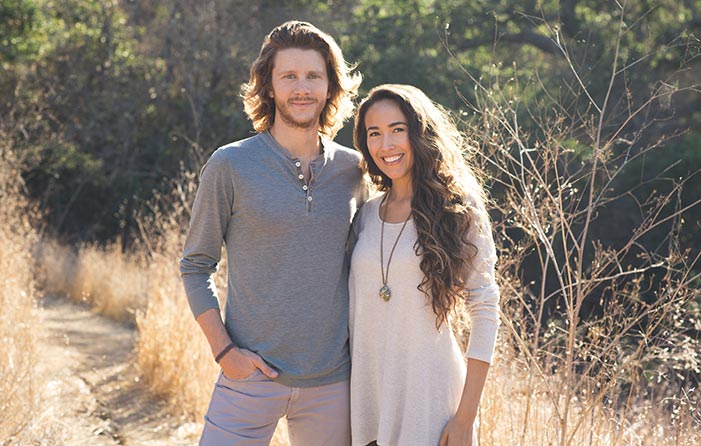 Two groups of entrepreneurs are looking to make a big impact on the lives of people in New Brunswick and across North America thanks to UNB's Summer Institute.
Wildland Organics, a waste-free hair and body product line, and Adaela Quinn, a venture offering maternity and breastfeeding clothing, are two of seven business ideas taking part in this year's Summer Institute. Hosted by the J. Herbert Smith Centre for Technology Entrepreneurship and Management, the three-month incubator connects entrepreneurs with resources and networks to grow their business.
The Summer Institute is unique in that it is open to participants who are not enrolled at UNB and accepts entrepreneurs from all over the world. The founders of Wildland Organics, Marisa and Daane Griffeth, travelled all the way from California when they found out they had been accepted.
Their idea for a gender-neutral, waste-free skin care and hair care line was born when they moved into a 275-sq. ft. tiny house in Topanga Canyon, California, and realized they needed to do some serious downsizing and be more eco-conscious as they navigated the off-grid lifestyle. Wildland Organics aims to help homeowners minimize consumption while using products that allow them to live a lighter and more sustainable life.
"One of the biggest hurdles of tiny living is eliminating clutter in your life, because with only 275-sq. ft. to work with, there's just no room for anything unnecessary," said Marisa Griffeth.
Each product can be used for a variety of purposes. They have designed products such as the Super Bar, which takes the role of a shampoo, shave bar and soap bar all in one and is free of plastic packaging. All of their products are made with natural ingredients and minimal packaging, making them perfect for travelers or those short on space.
While the founders of Wildland Organics crossed the continent to attend the Summer Institute, for the entrepreneur behind Adaela Quinn, it was much closer to home.
Keshia Matthews is a UNB alumna who started Adaela Quinn in 2017 to help accommodate women on their journey through pregnancy and beyond with well-fitted, versatile maternity clothes also perfect for breastfeeding mothers. Previously known as Modern Maternity Boutique, the idea for the business arose when Ms. Matthews became pregnant with her daughter and noticed the lack of maternity clothes available in Fredericton.
"After I started breastfeeding my daughter, I realized I needed clothing that was both functional, discrete and cute to wear in public," said Ms. Matthews. "I always wanted to start my own clothing line, so I thought, why not start now?"
The Summer Institute provided her the opportunity to begin designing clothes as part of the program's required projects. The first piece of her collection will be a jumpsuit that fits all body types – pregnant or not.
Ms. Matthews hopes to continue to grow Adaela Quinn and eventually have her own store. She intends to release more pieces in her clothing line and begin selling wholesale in a couple of years. The duo behind Wildland Organics plan to launch a live-work-sell space, which is an eco-friendly, off-grid, self-converted van. The van will serve as a mobile pop-up shop as part of their "live-light" motto, travelling across North America and creating personal connections with buyers.
All three entrepreneurs say the resources and mentorship of the program has been invaluable.
"What we love most about the Summer Institute is that the program forces you to act before you think you're ready, and that is invaluable at this stage in the game," said Marisa Griffeth. "As entrepreneurs and makers, it's easy to get stuck in a perfectionist cycle of iteration after iteration - and move like molasses while working toward the next step. The Summer Institute amps up all your deadlines and holds you accountable every single week by making you step up to the plate to pitch your business."
The Summer Institute will be hosting their final event on Thursday, July 19, at the Picaroons Roundhouse. Each of the seven business will have their last chance to pitch their ideas, followed by a reception. The event is open to the public and media at 6:30 p.m. with presentations starting at 7 p.m. Guests can register online.
Media contact: Kathleen McLaughlin