UNB researcher says living near water may lead to a longer life
Author: UNB Newsroom
Posted on Jul 26, 2018
Category: UNB Fredericton , myUNB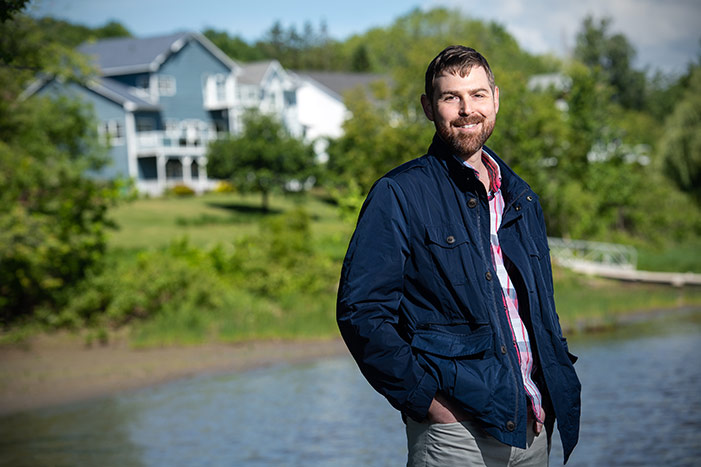 With three ocean coastlines and more than three million lakes, water is one of Canada's most precious and plentiful natural resources. Past research has demonstrated that time spent near water reduces stress and increases health and life satisfaction. A new Canadian study has found that living near natural water features, such as rivers, lakes, and the ocean, may actually lead to a longer life.
The study, led by Dr. Dan Crouse, a research associate at the University of New Brunswick, and a team of researchers from across Canada, appears in the latest issue of Environmental Health Perspectives. In a similar study published last year, Dr. Crouse and his team found that exposure to urban "greenspace" in Canadian cities could reduce mortality rates by eight to 12 per cent. The purpose of Dr. Crouse's most recent study was to examine whether living near large, natural water features, or "blue space," might also be associated with reduced mortality rates.
"We found much stronger associations than we had expected," says Dr. Crouse. "We did not expect the effects to be as great as what we found with greenspace in our earlier study — let alone even greater than those." Dr. Crouse and his team found that the risk of dying from several common causes of death was reduced by 12 to 17 per cent by living within 250 metres of water, compared to living farther away. The strongest protective effects were for deaths from stroke and from respiratory-related causes. They also found more protective associations among women and older adults.
"It is difficult to say why we might see differences in the effects between men and women and among people in different age groups, but some of this would have to do with how different people perceive and engage with natural spaces," says Crouse.
The study followed a massive national cohort of 1.3 million Canadians living in 30 cities across the country over an 11-year period. The authors took into consideration personal characteristics of the subjects, including age, income, education, and family status, as well as socioeconomic and environmental information about the neighbourhoods and communities where they lived, such as local levels of air pollution and average household incomes.
Dr. Crouse cautions that one limitation of the study is that the 250-metre buffer that the researchers used may include blue spaces not actually accessible or visible from the subject's residence. "We chose to consider water features within 250 metres, as that distance captures the area immediately around your home, where you might be likely to have exposure to, or contact with, water on a pretty regular basis," he explains. "We also explored the potential benefits of living within one kilometre of blue space but found that the benefits become very marginal farther away than that."
The study's findings contribute to the growing body of evidence to suggest that everyday exposures to natural environments within urban areas offer important benefits to health, which may be attributed to a range of passive and active exposures. "It seems that you don't have to be right out in the water to reap these benefits," explains Dr. Crouse. "For example, just having a view of water, or being able to hear the sounds of waves from one's bedroom, may lead to reduced stress or improved sleep – both of which can lead to improved cardiovascular health."
The findings from this study suggest that exposures to "blue space" in particular may have much stronger benefits to health than previously thought. Given that this is the first study of its kind, more research is needed to better understand the drivers of this relationship.
Media contact: Kathleen McLaughlin

Photo: UNB research associate Dr. Dan Crouse has found that living near water may lead to a longer life. Credit: Rob Blanchard/UNB.