Summer Institute helps entrepreneurs take their business ideas to the next level
Author: UNB Newsroom
Posted on Jul 18, 2018
Category: UNB Fredericton , myUNB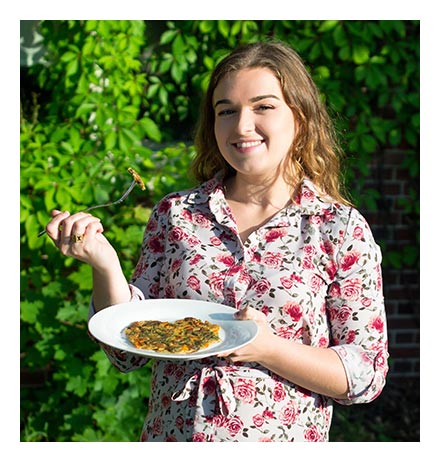 For anyone with an egg allergy, one entrepreneur is going to give them the replacement they've been searching for.
Hannah Chisholm has been allergic to milk, eggs and nuts her entire life. In May 2015, she created Eggcitables for personal use as a response to the absence of egg alternatives in grocery stores.
"Growing up, I got to witness the rise of the plant-based food industry. I went from drinking baby formula with my cereal to being able to eat dairy-free cheese and ice cream. While all these dairy alternatives were coming onto the market, I began to question why there wasn't an egg alternative available," said Ms. Chisholm.
Eggcitables is made out of chickpea flour, giving the product a high protein content with low fat and no cholesterol. The recipe also contains nutritional yeast, giving it an egg-like color and flavor and making it high in vitamin B12. It mimics the applications of a traditional egg and can be used as both a baking and binding ingredient when cooking.
"In addition to some other ingredients, we also use black salt, which gives the product some more egg flavor and a great smell," said Ms. Chisholm.
Eggcitables is one of seven ventures in the 2018 Summer Institute, hosted by the J. Herbert Smith Centre for Technology Entrepreneurship and Management at the University of New Brunswick. The institute is a three-month program that guides entrepreneurs and connects them with resources and networks for success in business.
Joining her in this year's cohort is a Fredericton company asking men to think a little harder about the products they use to tame their facial hair.
Educated Beards is the brainchild of Kevin Leboeuf and Alicia Phillips. Launched in December 2017, the company differs from other beard and moustache grooming products in that all of their items are crafted with natural, organic ingredients – from raw organic shea butter and local raw beeswax to essential oils and castile soap.
"Our approach to the market is different from other companies," Ms. Phillips said. "The majority of these ventures promote the idea that their product will make you 'manlier'. Instead, we promote the idea that our product will make your skin look and feel better – which leads to more confidence and success."
This market differentiator informs every aspect of the brand and finds its roots in the personal history of the founders. Mr. Leboeuf is a veteran of the Canadian Armed Forces who lives with post-traumatic stress disorder following a mission to Afghanistan. Ms. Phillips is a yoga instructor, reiki master and holistic nutritionist.
The duo said they were humbled and excited to have been selected for the program.
"The Summer Institute is an astonishing program. It has helped us answer questions that we have been struggling with for months," Mr. Leboeuf said. "They don't give us the answers or do the work for us, but they certainly lead us down the right path."
All seven of the ventures participating in this year's Summer Institute will be showcased at a celebration on July 19 at the Picaroons Roundhouse. Doors will open to the public and media at 6:30 p.m. with presentations beginning at 7 p.m. Registration is encouraged.
Educated Beards products are currently available online as well as at the Garrison Night Market every Thursday in Fredericton.
Ms. Chisholm plans to have Eggcitables stocked in stores across Atlantic Canada by the end of the summer.
Media contact: Kathleen McLaughlin