UNB dean recognized for outstanding contributions to higher education
Author: UNB Newsroom
Posted on May 1, 2018
Category: myUNB , UNB Saint John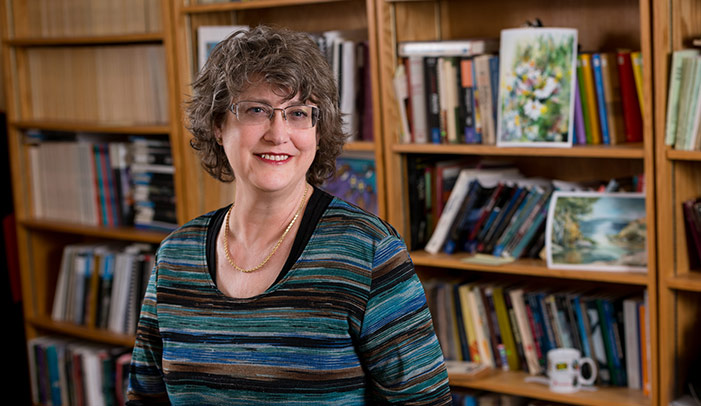 Dr. Joanna Everitt, dean of arts on the UNB Saint John campus, has been awarded the Angela Hildyard Recognition Award at the Senior Women Academic Administrators of Canada (SWAAC) conference.
Nominated by their colleagues, the award is given to an individual for continually demonstrating innovative leadership in advancing the mission of, and achieving outstanding contributions to, their institution and/or to higher education. SWAAC is an organization that provides a collective voice for women in leadership positions in post-secondary education in Canada.
"Joanna is committed to improving the educational experiences of our students, as well as providing a positive working atmosphere for faculty and staff. She exemplifies this every day," says Dr. Robert MacKinnon, UNB Vice-President Saint John.
"I feel extremely honoured that I was nominated by my institution for this award, and even more honoured to have received it as there are many other amazing and accomplished women in university administration across the country," says Dr. Everitt.
"UNB, and in particular the Saint John campus, has been a great place to have an academic career. I have been privileged to work with some wonderful people during my time as dean. I think we have done a great job meeting the challenges facing universities these days and I am proud to have played a part in this."
Dr. Everitt is a professor of political science and a former visiting fellow with the women and public policy program at Harvard University's Kennedy School of Government.
Specializing in Canadian politics, gender and politics and political behaviour, her research specifically examines gender identity and differences in public opinion, media coverage of male and female party leaders and its impact on leadership evaluations. She is currently completing an edited book on gender identity and mediation in Canadian politics, which will be published by UBC Press in the fall.
Heavily involved in various committees, both on and off our campus, Dr. Everitt is actively engaged in the Saint John community and the province of New Brunswick. She currently serves as vice-president of the Board of Directors of the Imperial Theatre, member of the Board of Directors of the Saint John Community Arts Board, and as a unit leader with Saint John Branch of Girl Guides of Canada. She has previously served as chair/co‐chair of the steering committee of Equal Voice New Brunswick, member of the provincial government's "Voices of Women" steering committee, chair of the CCRW Partners Program Business Advisory Committee, and president of the board of directors for both Saint John Family Services/ Family Plus and the Saint John Theatre Company.
Dr. Everitt will complete her second term as dean this summer and return to teaching full-time within the Faculty of Arts.
Media contact: Heather Campbell
Photo: Dr. Joanna Everitt has been awarded the Angela Hildyard Recognition Award. Credit: Joy Cummings/UNB Media Services