Wayne Johnston to read as part of Lorenzo Reading Series
Author: UNB Newsroom
Posted on Apr 18, 2018
Category: UNB Saint John , myUNB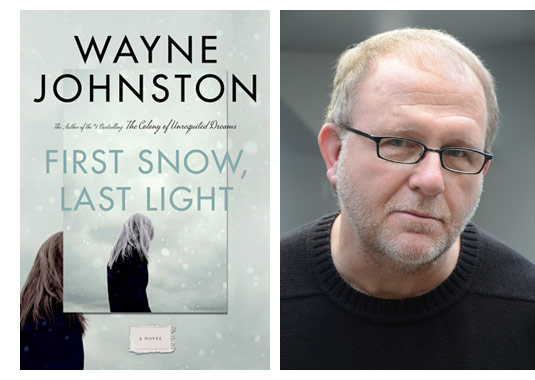 Novelist Wayne Johnston will read from First Snow, Last Light on Thursday, April 26 at 7 p.m. in the Ganong Hall Lecture Theatre on the University of New Brunswick Saint John campus.
Mr. Johnston, born and raised in the St. John's area of Newfoundland and Labrador, has had a number of nationally bestselling novels including The Divine Ryans, A World Elsewhere, The Custodian of Paradise, The Navigator of New York and The Colony of Unrequited Dreams, which has been made into a stage play and is being developed as a TV series.
Mr. Johnston is also the author of Baltimore's Mansion, the bestselling memoir and winner of the the Charles Taylor Prize for Literary Non-Fiction. He has been recognized for his work with a W.H. Smith/Books in Canada First Novel Award, a Canadian Authors' Association Award for Most Promising Young Writer, a Canadian Authors' Association Award for Fiction, Thomas Head Raddall Atlantic Fiction Prizes, and the prestigious Writers' Trust Engel/Findley Prize.
First Snow, Last Light is a story about Ned Vatcher, only 14, as he ambles home from school in the chill hush that precedes the first storm of the winter of 1936 to find the house locked, the family car missing, and his parents gone without a trace. From that point on, his life is driven by the need to find out what happened to the Vanished Vatchers. His father, Edgar, born to a poor family of fishermen, had risen to become the right-hand man to the colony's prime minister, then suffered an unexpected fall from grace. Were he and his wife murdered? Was it suicide? Had they run away? If so, why had they left their only child behind?
Ned soon finds himself enmeshed in another family, that of his missing father and the poverty from which the man somehow escaped. His grandparents, Nan and Reg, his Uncle Cyril and others, are themselves haunted by the inexplicable disappearance of a third Vatcher, a young man who was lost at sea on a calm and sunny day years earlier. Two other people loom large as Ned becomes Newfoundland's first media mogul, building an empire to insulate him from loss: a Jesuit priest named Father Duggan, and Sheilagh Fielding, a boozy giantess who, while wandering the city streets at night, composes satiric columns that scandalize the rich and powerful. In Ned, Fielding sees a surrogate for her two lost children, the secret that dogs her life, while Ned believes the enigmatic Fielding to be his soulmate.
The novel builds to a spectacular resolution of the mystery of all the Vanished Vatchers. Only Mr. Johnston could create such larger-than-life, mythic characters embroiled in events that leave us contemplating not only their tragedies and triumphs, but the forces that compel us all to act in ways that surprise and sometimes terrify us.
This reading is in memory of Susan Kathleen Leyden, longtime supporter of the Lorenzo Society.
The Lorenzo Reading Series acknowledges the support of the League of Canadian Poets, UNB Saint John, UNB Saint John Bookstore, Canada Council for the Arts and its private reading sponsors.
Media contact: Andrea Kikuchi
Photo credit: Mark Raynes Roberts