UNB law students and alumni reflect as school marks 125th anniversary
Author: UNB Newsroom
Posted on Apr 9, 2018
Category: myUNB , UNB Fredericton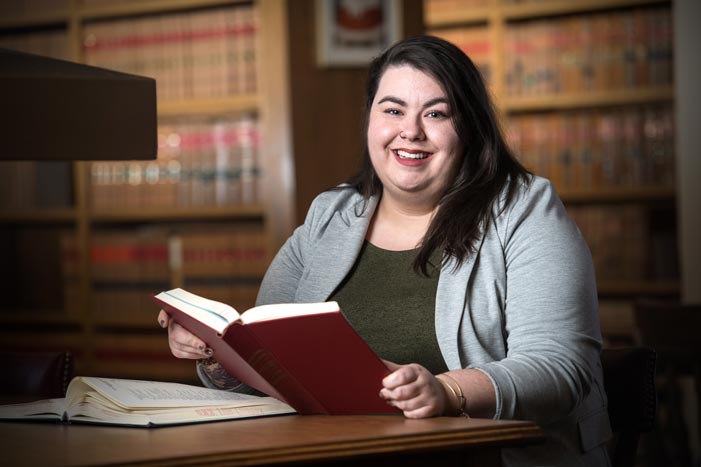 This year, the University of New Brunswick Faculty of Law celebrates its 125th anniversary. Since it opened its doors in 1892, UNB Law faculty and staff have encouraged students to think critically and pursue the areas of law in which they are most passionate.
"This is an important milestone for UNB Law," says John Kleefeld, dean of UNB Law. "I'm excited to be working with alumni, students, faculty and staff to make UNB Law not only a 'great small law school' but an innovative and forward-thinking one too."
In honour of UNB Law's 125th anniversary, and in support of the Law 125 Opportunities Fund, a gala dinner will be held on April 21, 2018 at the Delta Fredericton.
The keynote speaker at the gala event will be PEI Premier and UNB Law alumnus Wade MacLauchlan while Madam Justice Margaret Larlee of the Court of Appeal of New Brunswick, a graduate of the UNB Law Class of '74, will be honoured with the 2017 Ilsa Greenblatt Shore Distinguished Graduate Award.
Over the years, UNB Law has graduated thousands of students. Apart from becoming prominent lawyers in New Brunswick, graduates include Supreme Court justices, prominent political figures, law school deans and heads of successful companies.
Simone Cole, for example, is vice-president and general counsel at Weston Foods Inc. in Toronto. She graduated from UNB Law in 2006 and looks back on her experience in law school with fondness. "Our professors were so committed and invested in us," she says. "We were pushed hard but supported. It was a community that wanted to see students succeed."
For recently appointed Nova Scotia provincial court judge and UNB Law alumna Amy Sakalauskas, law school was challenging and fulfilling. It was also a place with a strong sense of community.
"I met some great lifelong friends early on," says Judge Sakalauskas. "Those friendships were really important as we tried to navigate a challenging program. We all supported each other. I came out within the first couple of months of law school, at a time when being LGBT in Fredericton was not always easy, and received great support from the law school community."
Ben Lord, president of the UNB Law Students' Society, is graduating from UNB Law in May and has accepted an articling position at Saint John firm Canty Lutz Delaquis Grant. He says he expected an academically challenging program "where people were competitive to the point that it was every person for themselves, but we have supported each other through this academically rigorous journey, and have bonded in a very special way as a result."
Third-year UNB law student Desirée Duplessis feels the same way. "I was extremely nervous to start law school," she says. "I thought I would be an oddball in a group of extremely smart and serious students, but I was pleasantly surprised to find how friendly everyone was. More than anything, my experience has taught me that I have more mental and emotional endurance than I ever thought possible. I was not aware of what I was capable of until I attended UNB Law."
Ms. Duplessis sees herself continuing to pursue her dedication to curb domestic violence as well as her advocacy for mental health supports, sexual assault survivors, missing and murdered indigenous women, girls and two-spirit people.
"Attending law school taught me which issues I am very passionate about," says Ms. Duplessis. "Every decision I make from now on should be in service of those passions."
Register now for tickets to the April 21 gala, or call 506-453-5053.
Media contact: Hilary Creamer Robinson
Photo: Third-year UNB Law student Desirée Duplessis is an advocate on behalf of victims of domestic violence and sexual assault, and missing and murdered indigenous women, girls and two-spirit people. Credit: Rob Blanchard / Photo UNB.