UNB forestry students help Town of St Andrews battle deer overpopulation crisis
Author: UNB Newsroom
Posted on Apr 5, 2018
Category: UNB Fredericton , myUNB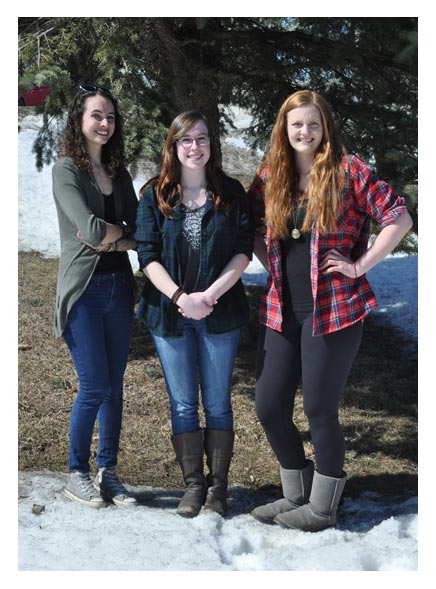 A group of five fourth-year students from the University of New Brunswick's faculty of forestry and environmental management is developing a nuisance deer management plan to help the Town of St. Andrews combat its deer overpopulation issue.
"There are about 13 deer per square kilometre in the Town of St. Andrews," says student and group member Angela Dick. "That's really high. There's a lack of natural predators and an abundance of food – the deer have an all-access buffet, are running rampant and destroying property."
There have also been increased incidents of motor vehicle accidents and a heightened concern from residents about lyme disease because of the sheer volume of the unwelcome animals.
The Nuisance Deer Management Plan was developed for this year's 4020 Capstone Practicum course at UNB. The plan, along with seven other projects, will be presented tomorrow, Friday, April 6, in the Forestry and Geography Building on UNB's Fredericton campus, second- and third-floor hallways in rooms 203, 305 and 309, beginning at 1:30 p.m.
To help develop their plan, the students extensively researched nearby towns facing similar deer management issues. They also got a sense of how town residents felt by conducting a public opinion survey.
Nearly 85 per cent of respondents felt that deer are creating problems by eating gardens, defecating on lawns and causing traffic concerns.
"People love to look out their window and see a few deer," says Ms. Dick, "but not to the point where they're causing a nuisance." Some residents surveyed by the group have been trying to make their properties less appealing to the deer with natural and homemade repellents, netting and fencing, "but it's going to take a big effort from a lot of people for that to make a real difference," says Ms. Dick.
The group believes a combination of both lethal and nonlethal methods will be the most effective strategy for the Town to control the deer population.
"The Town has already implemented an annual hunt," says another member of the student team Maddie Hall. "This gives residents with big properties a licence to hunt deer with a bow. But because the population is still out of control, we're suggesting more needs to be done."
"Most people want to see deer moved to another location," says Ms. Hall, "but what they often don't realize is that relocated deer have a 20 per cent mortality rate. It's very stressful for them to be captured, crated and moved, and they aren't used to natural predators." It costs about $1,000 to relocate a single deer, whereas culling can cost anywhere from $350 to $650 per animal.
As a result of the group's work, the Town of St. Andrews now has a deer density test, a valuable tool, according to Ms. Hall. "Our hope is that the Town will use our recommendations," says Ms. Hall, "and effectively reduce the nuisance deer in the town."
Media contact: Hilary Creamer Robinson
Photo: Nuisance Deer Management Plan group members (from left to right): Courtney la Roux, Angela Dick and Nicole Hornsby. Missing: Maddie Hall and Dominique Williams. Photo credit: Hilary Creamer / UNB.