UNB celebrates 125th anniversary of Faculty of Law with successful gala dinner
Author: UNB Newsroom
Posted on Apr 23, 2018
Category: UNB Fredericton , myUNB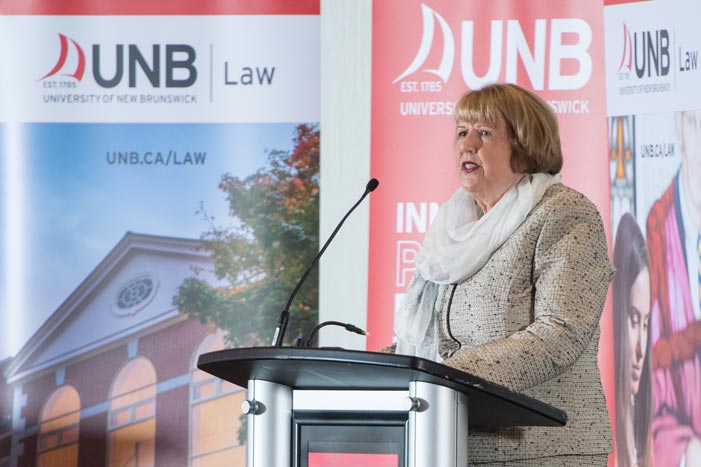 This year, the faculty of law at the University of New Brunswick celebrates its 125th year. In honour of the milestone, over 350 alumni, faculty, students and guests attended a gala dinner last Saturday, April 21, at the Delta Hotel in Fredericton.
"Tonight we celebrate not only our long and distinguished history," said Dean John Kleefeld in his opening remarks, "but also the many people who have made UNB Law the fine school it is today."
Early in the evening, UNB Law alumna Madam Justice Margaret Larlee was presented with the prestigious 2017 Ilsa Greenblatt Shore Distinguished Graduate Award. Named in honour of the late Dr. Shore, a former UNB Board of Governors chair and graduate (BA, BEd '71, LLD '79), the award is bestowed upon UNB law alumni who have been involved in public service, including service to the law school, and who have achieved recognition in their chosen fields.
In 1985, Madam Justice Larlee was the first woman appointed to the Court of Queen's Bench of New Brunswick. She was also the first woman appointed to the Court of Appeal of New Brunswick in 1998.
"Ilsa Greenblatt Shore was a warrior, and I consider myself to be a warrior," said Madam Justice Larlee. "I am honoured to be given this award in her name."
The Honourable H. Wade MacLauchlan, CM, OPEI, MLA (LLB 1981), Premier of Prince Edward Island and former dean of UNB Law, was the evening's keynote speaker. He spoke of UNB's reputation for fostering tight knit relationships, and the significant impact that can make throughout one's legal career.
"UNB law has a special quality," said the Honourable Wade MacLauchlan. "It has the advantage of scale, of people knowing each other and forming lifelong friendships. UNB is Canada's great small law school – you can do great things in small places."
Other notable alumni in attendance included the Honourable Gerard La Forest, former justice of the Supreme Court of Canada, scholar and teacher; the Honourable Ernest Drapeau, Chief Justice of New Brunswick; and several former UNB Law deans, including Edward Veitch, Anne La Forest and John Williamson.
Proceeds from the evening will go towards the Law 125 Opportunities Fund, and will help support future UNB law initiatives such as new courses, the expansion of internship and clinical experiences for students, and building and classroom improvements.
Media contact: Hilary Creamer Robinson
Photo: Madam Justice Margaret Larlee accepting the Ilsa Greenblatt Shore Distinguished Graduate Award at the Law 125 Gala Dinner, Apr. 21, 2018. Credit: Cameron Fitch/Photo UNB.