Three UNB researchers finalists in innovation competition
Author: UNB Newsroom
Posted on Apr 11, 2018
Category: myUNB , UNB Fredericton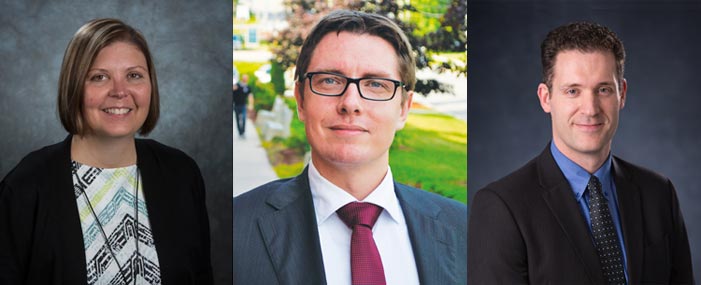 Three University of New Brunswick researchers are among five finalists in one of the province's premier research competitions, the New Brunswick Innovation Foundation's R3 Research Innovation Awards.
All three are being recognized for their research into how to aid the province's greying population.
Winners of the R3 Innovations in Aging gala will be announced tomorrow, Thursday, April 12, at the Fredericton Convention Centre.
"We're thrilled that our researchers are being recognized for their innovative work, and so proud that three of the five finalists are from UNB," says Dr. David MaGee, vice-president of research at UNB. "It speaks to the importance of UNB's research agenda to the future of our province."
The three winners chosen will each receive $50,000 in New Brunswick Innovation Foundation research funding while the CBC Viewers' Choice winner will be awarded $15,000.
Dr. Carole Goodine, a visiting research fellow at UNB's Institute of Biomedical Engineering, and her team are developing an app to address polypharmacy – the simultaneous use of multiple medication, a major issue among the aging population.
The app will optimize medication use in older adults with the help of a program developed at McGill University Health Centre called MedSafer. Patients' medications and medical conditions are cross-referenced and potential concerns are flagged for review.
"We're hoping this app will lead to the de-prescribing of medications in seniors," says Dr. Goodine, a pharmacist. "Statistics show that over 60 per cent of nursing home residents are on more than 10 medications. We know that beyond five medications, there is an increased risk of side effects and drug interactions. We want to reduce that risk."
Dr. Trevor Hanson, associate professor of civil engineering and a member of the UNB Transportation Group, is addressing the long-standing issues facing rural older adults who can't or don't drive by developing technical planning and forecasting tools to support age-friendly rural transportation.
Dr. Hanson and his team are currently focused on understanding the role that non-profit volunteer driver programs play in the transportation system.
"We know these programs are important, but it can be challenging to replicate in new locations where they might be needed. We will be using an engineering lens to learn what makes a successful program – how are they used and for what purposes, whether we can predict ridership, volunteer supply, and ultimately, where programs can be successful," says Dr. Hanson.
His research in older-person mobility was inspired by his late grandmother, someone who grew up being able to walk or bike everywhere, but eventually had to rely on others for drives as local services closed. While she was grateful for the help of friends and family, she also wanted to be independent. It is Dr. Hanson's hope that his work will lead to more transportation options that help older adults in rural areas better meet their needs.
Dr. Erik Scheme, assistant professor of electrical and computer engineering and a researcher with UNB's Institute of Biomedical Engineering, is being saluted for developing PITCH – Proactive Integrated Technology-Enabled Patient-Centric Healthcare, a comprehensive screening program that will enable regular and proactive health monitoring and intervention.
PITCH's multi-disciplinary team of 17 clinicians, researchers and data scientists are developing a new mobile digital health platform focused on a patient-centred approach they hope will translate into better health outcomes and lower health care costs.
"I've been looking at the areas of need in the New Brunswick health care system and one thing I keep finding is that the system is very reactive. I'm interested in developing technology that is more proactive and allows individuals to live independently," says Dr. Scheme.
Media contact: Cody Peters
Photo, L-R: Carole Goodine, Trevor Hanson and Erik Scheme