UNB students come to aid of Fredericton food bank with their ingenuity
Author: UNB Newsroom
Posted on Mar 29, 2018
Category: UNB Fredericton , myUNB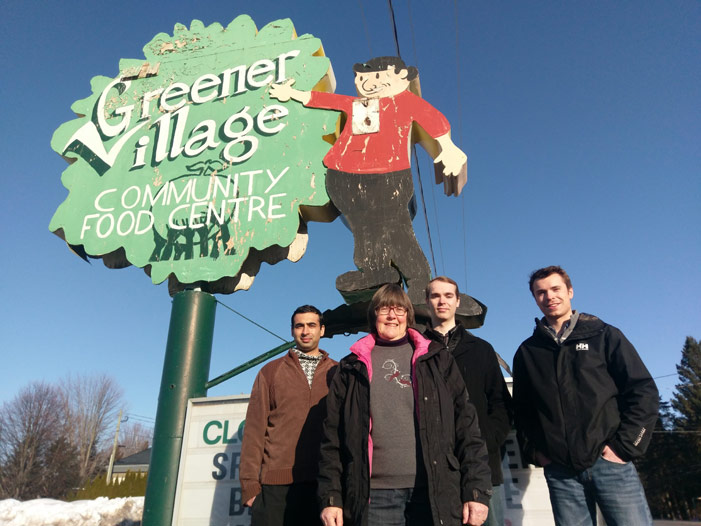 Three engineering students from the University of New Brunswick's Fredericton campus have applied their innovative know-how to aid a local food bank, devising new technology to help address a pressing need.
The trio have dedicated countless hours to help the Fredericton Food Bank at Greener Village by advancing an inefficient manual compost grinder.
"Our main goal is to create something that will last a long time, be easy to clean and maintain, easy to operate and easy to repair – if something were to break, we wanted them to be able to fix it themselves instead of having to hire someone," say Gaurav Malik, a fourth-year mechanical engineering student at UNB.
Greener Village grinds around 30 to 40 pounds of produce a week. With the new grinder able to handle a greater capacity, the food bank plans on soliciting existing donor grocery stores and restaurants to donate their waste every week to be ground into fertilizer.
Mr. Malik and fellow fourth-year mechanical engineering students Aaron Sentner and Alexander MacGregor will soon be showcasing their innovation to the public at the Fredericton Convention Centre on April 5, when the fourth annual UNB Engineering Design Symposium kicks off.
Final-year UNB engineering students showcase their designs and prototypes to the community during the one-day symposium. More than half of the projects are sponsored by external clients, where students are mentored by practising engineers. Hundreds of student projects are presented.
The grinder, with metal hopper and a lexan viewing window, has slanted edges that force the produce to tumble into a set of cylinders with grinding teeth at the bottom. Previously the manual hand crank was the only way to make those teeth move and it was inefficient.
With the food waste donations, the food bank hopes to get and process with the new grinder, Greener Village expects to generate enough compost to feed 7,800 square feet of greenhouse space dedicated to growing organic foods. That way, it hopes to avoid buying much more fertilizer.
The original grinder was first designed and built in 2015 by a group of UNB engineering students. One of the original creators, UNB grad Jonathan Kummer, volunteered with Greener Village last summer and realized that the grinder wasn't working as efficiently as it could.
"He took the initiative and went back to UNB engineering and asked if they could find a group to make improvements to his original design," says Greener Village's Alison Juta.
"When we get the new grinder, it should be able to handle a much greater capacity and get the job done quicker than before. We plan on soliciting select food establishments to set aside their food waste, instead of putting it in the trash, and allow us to come around once a week to collect it," she says.
The grinder will be on display at UNB Engineering Design Symposium next week and is expected to be installed at Greener Village in May.
Says Mr. Sentner, one of the UNB students behind the rejuvenated grinder: "I like the idea that our project is helping environmental sustainability and that we are helping a great client that cares about the same things we do."
Media contact: Cody Peters
Photo: Fourth-year engineering students at the University of New Brunswick are refurbishing a compost grinder for Fredericton Food Bank at Greener Village. They will be showcasing their work at the Fredericton Convention Centre on April 5, when the fourth annual UNB Engineering Design Symposium kicks off. From left Gaurav Malik, Alison Juta, Alexander MacGregor and Aaron Sentner.