UNB researcher to help coordinate global response to threat posed by antimicrobial resistance
Author: UNB Newsroom
Posted on Mar 16, 2018
Category: UNB Fredericton , myUNB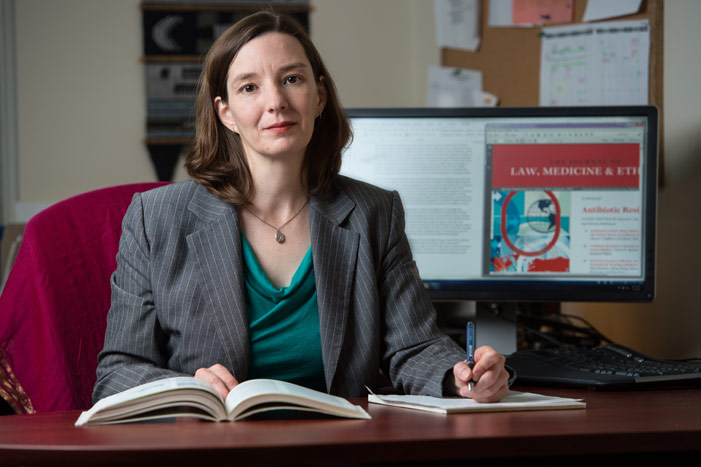 With funding from the federal government, a University of New Brunswick global health expert is helping to lay the foundation of a Canadian research hub to help co-ordinate a global response to antimicrobial resistance.
Dr. Suzanne Hindmarch, a UNB political scientist studying international relations and global health, and Dr. Malcolm King, scientific director of the Saskatchewan Centre for Patient-Oriented Research at the University of Saskatchewan, form one of three teams sharing $300,000 in funding from the Government of Canada for the critical research.
Health Minister Ginette Petitpas Taylor made the announcement today at a news conference at the University of New Brunswick's Fredericton campus.
"The Government of Canada is pleased to contribute to research efforts that will help us tackle antimicrobial resistance, one of the most serious global health threats facing the world today," the minister said. "This investment will support Canadian researchers who will collaborate with international colleagues as part of the global response to antimicrobial resistance."
More commonly known as drug-resistant infections or bacteria, antimicrobial resistance happens when microbes such as bacteria, viruses or parasites change so that the drugs used to treat them are no longer effective. This emerging global health crisis has the potential to undermine health care providers' ability to control and prevent the spread of infections and to perform medical procedures such as surgeries and chemotherapy.
Dr. Hindmarch will co-lead a team of mostly Indigenous researchers who will consult with Indigenous organizations in Canada to learn about their perspectives on antimicrobial resistance, the health challenges it presents in their communities and how they have been, and would like to be, involved in national and global response networks.
An assistant professor of political science, Dr. Hindmarch was drawn to the study of antimicrobial resistance by its highly complex, politically challenging nature. It was during her research of the global response that she was struck by the relative absence of Indigenous perspectives and organizations.
"It's really about beginning a conversation," Dr. Hindmarch said. "Because the antimicrobial resistance response is still in its infancy, there's a tremendous opportunity to work in partnership to build Indigenous leadership into this response from the outset – and to ensure that the response is culturally safe, respectful of Indigenous peoples and well-situated in the larger context of Indigenous health, wellness and sovereignty."
The results of this research will inform a globally-connected Canadian response to antimicrobial resistance, both in terms of prevention and in terms of addressing drug-resistant strains when they appear.
"The investment announced today is critically important because it is putting some of Canada's brightest minds to work, in order to stimulate knowledge about antimicrobial resistance for the benefit of all Canadians," said Dr. Steven Hoffman, scientific director of the Canadian Institute of Health Research's Institute of Population and Public Health. "This is one of the biggest threats to global public health, food safety and development today, and it is important to remember than anyone, of any age, in any country can be affected."
The two other research teams receiving funding for the project are from the Université de Sherbrooke and University of Ottawa.
Media contact: Hannah Classen