Three acclaimed playwrights to read at UNB
Author: UNB Newsroom
Posted on Feb 26, 2018
Category: myUNB , UNB Fredericton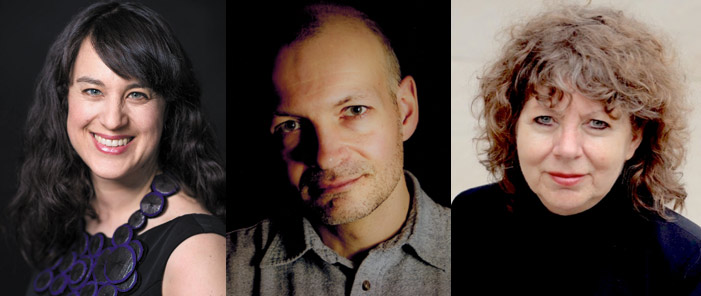 Award-winning playwrights Anna Chatterton, Len Falkenstein and Colleen Murphy will read from their works on Wednesday, Feb. 28 at 7:30 p.m. in the Alumni Lounge of the Alumni Memorial Building on the University of New Brunswick's Fredericton campus.
The readings introduce Ms. Murphy as UNB's writer-in-residence and launch the book publication of two plays – Lac/Athabasca by Dr. Falkenstein as well as Gertrude and Alice by Ms. Chatterton and Evalyn Parry.
Ms. Murphy is a two-time Governor General's Literary Award Winner for Drama. In 2016, she won for her play Pig Girl, and in 2007 for The December Man. In 2017, she had four world premieres including The Breathing Hole at the Stratford Festival and the opera Oksana G. in Toronto.
Ms. Murphy is also an award-winning filmmaker whose films have played in festivals around the world. She has been the writer-in-residence at Finborough Theatre in London, U.K., Necessary Angel Theatre and Factory Theatre in Toronto as well as several Canadian universities.
As UNB writer-in-residence, she will be available to students on the campus to consult with them on their creative writing projects. While she will be able to help writers of any genre, her skill set lends best to assisting playwrights.
Ms. Chatterton, a librettist, playwright and performer, was a finalist for the 2017 Governor General's Literary Award for Drama for her play Within the Glass. Nominated for five Dora Mavor Moore Awards, she won the 2017 Dora Award for Outstanding Opera Production. Her solo play, Quiver, was produced by Nightwood Theatre, where she is currently playwright-in-residence. Ms. Chatterton has co-written and created six plays with feminist theatre company Independent Aunties including the multi-Dora-nominated Gertrude and Alice, about Gertrude Stein and her partner, Alice B. Toklas.
Dr. Falkenstein is the director of drama for the University of New Brunswick's Fredericton campus, where he teaches theatre and playwriting and directs productions for Theatre UNB. He is also artistic director of Bard in the Barracks, Fredericton's outdoor Shakespeare company, and NotaBle Acts Theatre Company, which stages new plays by New Brunswick dramatists. His plays include Soft Target, Utopia, Doppelgänger, and Free/Fall, which have been staged across Canada by his company Theatre Free Radical. Lac/Athabasca, written in response to the Lac-Mégantic rail disaster, won second prize in the 2015 Herman Voaden Playwriting Competition.
The event, sponsored the UNB department of English, the Playwrights Guild of Canada and Playwrights Canada Press, is free and open to the public.
Media contact: Cynthia Daffron, cynthia.daffron@unb.ca, (506) 453-4676
Photo, left to right: Anna Chatterton, Len Falkenstein and Colleen Murphy