Author Steven Heighton featured at Lorenzo Reading Series
Author: UNB Newsroom
Posted on Feb 8, 2018
Category: UNB Saint John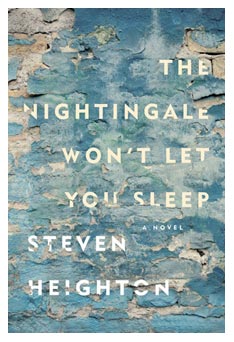 Steven Heighton, novelist, short story writer and poet, will read from his latest book, The Nightingale Won't Let You Sleep, on Thursday, Feb. 15 at 7 p.m. in the Ganong Hall Lecture Theatre at the University of New Brunswick's Saint John campus.
Mr. Heighton is the author of 14 books, including three short story collections, three novels and six poetry collections. His poetry collection The Waking Comes Late, received the 2016 Governor General's Award for Poetry. He is also the author of the novel Afterlands, which was a New York Times Book Review Editors' Choice, and a "best of year" selection in 10 publications in Canada, the USA and the UK. It has been optioned for film and is in pre-production.
In addition to receiving a Governor General's Award for Poetry, he is also the recipient of the Gerald Lampert Award, the 2010 K.M. Hunter Award, the 2011 P.K. Page Founders' Award, The Petra Kenney Prize, the Air Canada Award, and four gold National Magazine Awards.
In the The Nightingale Won't Let You Sleep, Elias Trifannis is desperate to belong somewhere. To make his dying ex-cop father happy, he joins the military – but in Afghanistan, by the time he realizes his last-minute bid for connection was a terrible mistake, it's too late and a tragedy has occurred.
In the aftermath, exhausted by nightmares, Elias is sent to Cyprus to recover, where he attempts to find comfort in the arms of Eylül, a beautiful Turkish journalist. But the lovers' reprieve ends in a moment of shocking brutality that drives Elias into Varosha, once a popular Greek-Cypriot resort town, abandoned since the Turkish invasion of 1974.
Hidden in the lush, overgrown ruins is a community of exiles and refugees living resourcefully but comfortably. Thanks to the cheerfully corrupt Colonel Kaya, who turns a blind eye, they live under the radar of the Turkish authorities.
As he begins to heal, Elias finds himself drawn to the enigmatic and secretive Kaiti while he learns at last to "simply belong." But just when it seems he has found sanctuary, events he himself set in motion have already begun to endanger it.
The Lorenzo Reading Series acknowledges the support of the League of Canadian Poets, UNB's Saint John campus, UNB the Saint John Bookstore, Canada Council for the Arts and its private reading sponsors.
For more information, contact Andrea Kikuchi at (506) 648-5782 or email lorenzo@unb.ca.
Media contact: Andrea Kikuchi