Lorenzo Reading Series to feature graphic novel about aboriginal gang violence
Author: Communications
Posted on Sep 21, 2017
Category: UNB Saint John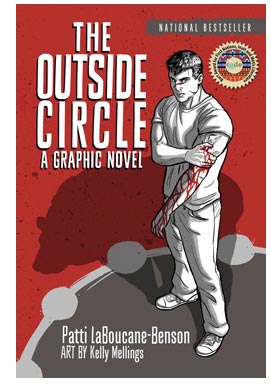 Author Patti LaBoucane-Benson and illustrator Kelly Mellings will read from their award-winning book, The Outside Circle: A Graphic Novel on Tuesday, Sept. 26, at 7 p.m. in the Ganong Hall Lecture Theatre.
In this graphic novel, two Aboriginal brothers surrounded by poverty, drug abuse, and gang violence, try to overcome centuries of historic trauma in very different ways to bring about positive change in their lives.
Pete, a young Aboriginal man wrapped up in gang violence, lives with his younger brother, Joey, and his mother who is a heroin addict. One night, Pete and his mother's boyfriend, Dennis, get into a big fight, which sends Dennis to the morgue and Pete to jail. Initially, Pete keeps up ties to his crew, until a jail brawl forces him to realize the negative influence he has become on Joey, which encourages him to begin a process of rehabilitation that includes traditional Aboriginal healing circles and ceremonies.
Powerful, courageous, and deeply moving, The Outside Circle is drawn from the author's 20 years of work and research on healing and reconciliation of gang-affiliated or incarcerated Aboriginal men. The Outside Circle is the recipient of CODE's 2016 Burt Award for First Nation, Inuit and Métis Literature.
The Lorenzo Reading Series acknowledges the support of the League of Canadian Poets, UNB Saint John, UNB Saint John Bookstore, Canada Council for the Arts and its private reading sponsors.
Media contact: Andrea Kikuchi