UNB names varsity women s hockey coach
Author: Communications
Posted on Jun 12, 2017
Category: UNB Fredericton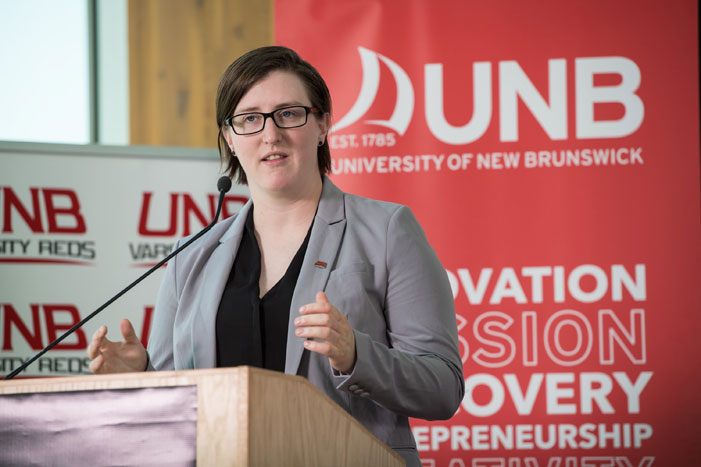 The University of New Brunswick is pleased to announce that Sarah Hilworth has been named head coach of its women's varsity hockey team. Ms. Hilworth joins the UNB Varsity Reds after two seasons as head coach of the Broncos at Olds College in Alberta. There, she built the Broncos women's hockey program up from its birth in 2015. Prior to becoming the first women's hockey coach at Olds College, Ms. Hilworth served two seasons as an assistant coach with the University of Alberta Pandas, helping lead her alma mater to back-to-back first place finishes and the 2015 Canada West championship. "We are thrilled to have Sarah join UNB," says George MacLean, vice-president academic on the Fredericton campus. "Sarah's leadership as both a coach and a player will inspire passion and confidence in the new team. This enriches the UNB student experience – not just on the ice but across our university." She played five seasons for the Pandas, capturing a national championship in 2010, captaining the team in her final season, and registering 100 points in 100 career games. She is a graduate from the University of Alberta with a Bachelor of Arts in Sport, Recreation and Tourism. "Sarah is the right person to lead the Varsity Reds back into varsity women's hockey," says John Richard, UNB's director of athletics. "Her experience as a head coach, as an assistant coach and as a student athlete were things that really stood out during the hiring process." "She's had recent experience with starting a program from scratch, and that's what we're doing here. We're excited to have Sarah leading the effort," says Mr. Richard. Ms. Hilworth was hired following an extensive search that attracted the interest of more than 40 candidates from across North America. "This opportunity is a dream come true," says Ms. Hilworth. "I'm being entrusted not just to bring the women's hockey tradition back to UNB, but add another element of elite hockey in New Brunswick." "Having Sarah on board is a real sign of our commitment to women's hockey," says Mr. Richard. "We can now get started on building on that commitment and icing a team a little more than a year from now." "The next twelve to fourteen months will be important in building the internal foundation of success for our program," says Ms. Hilworth. She says she is focused on a number of priorities in readying for the launch of the first season. "It will be important to connect and develop relationships within the university to organize the framework for the program. We'll need to prepare and review budgets, generate some quick recruiting wins and then build recruiting, build a strategic roadmap for the next three years. I'll have to develop alumni relations and purchase the necessities for year one including equipment and jerseys," she says. Ms. Hilworth acknowledges she'll be launching the team in the home of one of the most successful men's hockey programs in Canadian university history. She intends to use that to her advantage. "I'm hoping to be able to watch and learn from men's coach Gardiner MacDougall and his team," she says. "Having one of the best coaches in Canada competing in the same building as us creates an opportunity to learn how we can utilize successful measures that they've instilled in their game and be able to implement them with the members of our team." For more information, please contact:
Andy Campbell: Communications Manager, Varsity Reds, 506-470-5578
Sonya Gilks: Communications Director, University of New Brunswick, 506-453-4546
Photo:
Sarah Hilworth, new head coach of the UNB Varsity Reds women's hockey team, speaks at a news conference in Fredericton on Monday.