New Brunswick cybersecurity startup secures more than 500 000 in investment
Author: Communications
Posted on Jun 26, 2017
Category: UNB Fredericton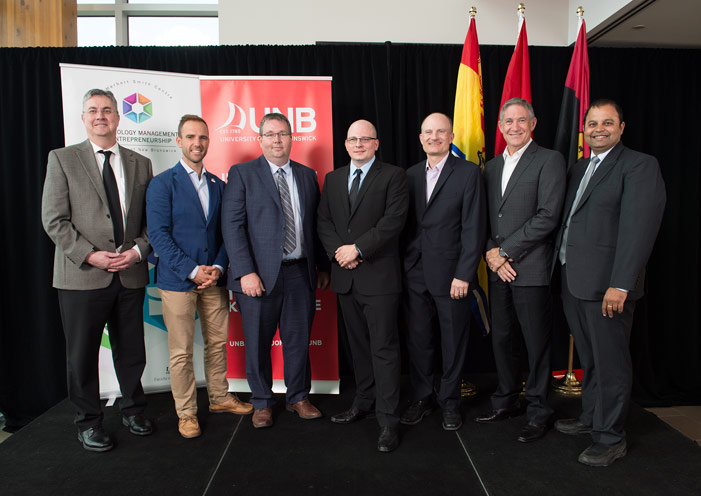 First cybersecurity firm incubated at UNB's Energia Ventures accelerator launches public early adopter program for its innovative technology
Beauceron Security Inc. a startup founded at the University of New Brunswick, has secured more than $500,000 in equity funding from private and public investors.
"We are thrilled to launch New Brunswick's newest fully funded cybersecurity firm and extraordinarily grateful for the tremendous support we've received from the university, our investors and our early adopter clients," says David Shipley, CEO of Beauceron Security.
Beauceron raised more than $500,000 in its seed investment round. The round was led by East Valley Ventures and Mariner Partners and included $150,000 from the New Brunswick Innovation Foundation (NBIF).
"We're excited to invest in a startup with such huge growth potential, founded by seasoned industry experts who understand the market," said Calvin Milbury, NBIF's president and CEO. "What impressed us the most was the interest they've received from customers already."
In addition to securing early investment, Beauceron has attracted 11 clients in higher education, information technology, manufacturing and government in Canada and the United States. Clients include the University of New Brunswick, the Schulich School of Business at York University, Bulletproof Solutions, Gaming Labs International and the City of Fredericton.
"Being an early adopter of Beauceron gives the City of Fredericton access to innovative world-class cybersecurity technology as soon as it is available," said mayor of Fredericton, Mike O'Brien. "There's a tremendous benefit to being a city with a strong ecosystem of technology entrepreneurship and advanced cybersecurity research, development and commercialization. This partnership also supports the city's startup community in bringing products to market more quickly and growing a strong customer base by proving a real-life use case."
Beauceron is also partnering with Bulletproof Solutions, Mariner, and Accreon Inc., who are helping bring the Beauceron technology to customers throughout North America.
"We're thrilled to have the support of some of the region's top IT and cybersecurity firms as partners," says Mr. Shipley, who announced the launch of the company at a news conference today at the University of New Brunswick's Fredericton campus. "This will help us bring Beauceron to organizations of all sizes and will significantly aid in our growth plans."
Beauceron began in the fall of 2015 when Mr. Shipley, along with UNB IT staffers Benjamin Steeves and Sean McDougall, started to explore a new approach to measuring, managing and monitoring cyber risk as a personal project. Together with co-founders Bob Corson and Ian MacMillan, they began building their innovative, web-based cyber risk technology.
In December 2016, Beauceron was accepted into the inaugural cohort of Energia Ventures, a UNB-based, startup accelerator in the J. Herbert Smith Technology Management and Entrepreneurship Centre (TME).
"Energia helps startup firms in energy, clean tech, smart grid and cybersecurity," said Dhirendra Shukla, chair of TME and professor of engineering at UNB. "We help with initial funding, mentorship, refining plans and developing product solutions to prepare startups for further investment. Beauceron is the first of Energia's initial cohort to close a first round of investment and we're proud of the success they've seen so far."
Mr. Shipley said the Energia Ventures program helped Beauceron prepare and execute the firm's successful launch.
"I'm truly grateful to Energia's managing director, Ed Rodriguez, and TME chair Dhirendra Shukla for their advice and tireless support."
In addition to the support from Energia, Beauceron benefitted significantly from UNB's willingness to be a beta site for the development and refinement of the platform.
"UNB's IT department has a track record of creating innovative solutions, particularly in cybersecurity," says Mr. Shipley, noting that New Brunswick's largest startup success story to date, Q1 Labs, came directly from work started by staff in UNB's IT department. "I'll be forever grateful for the support and encouragement of my mentor, associate vice-president of Integrated Technology Services at UNB, Terry Nikkel, for giving me a chance to develop Beauceron."
Beauceron's launch, along with past success stories like Q1, demonstrates why Startup Canada named UNB Canada's most entrepreneurial university, providing support not only to innovative ideas from students and faculty, but also from its staff.
"Innovation and entrepreneurship is part of our DNA at UNB," said Eddy Campbell, UNB's president. "We've created an ecosystem where any student, faculty and staff member who has an idea and the courage to lead will be given the support they need to see their venture through. That is why UNB launches more than two dozen startups every year and I'm very pleased to see Beauceron Security added to this growing list."
About Beauceron Security
Beauceron Security Inc. is a Fredericton-based cybersecurity software developer that provides a unique platform for measuring, managing and monitoring cyber risk based on people, process, culture and technology.
About the University of New Brunswick
The University of New Brunswick (UNB) is Canada's oldest English-language university. Founded in 1785, the multi-campus institution has a rich history and a dynamic focus on innovation, experiential learning and entrepreneurship. UNB has nearly 10,500 students from nearly 100 countries while several thousand more take UNB courses online and at partner institutions around the world. UNB contributes significantly to the province with an annual economic impact of $1.2 billion on the provincial economy – equivalent to 4.5 per cent of the gross domestic product of New Brunswick.
Media contact: Natasha Ashfield