UNB faculty of nursing receives donation from Allscripts Canada​
Author: Communications
Posted on May 12, 2017
Category: UNB Fredericton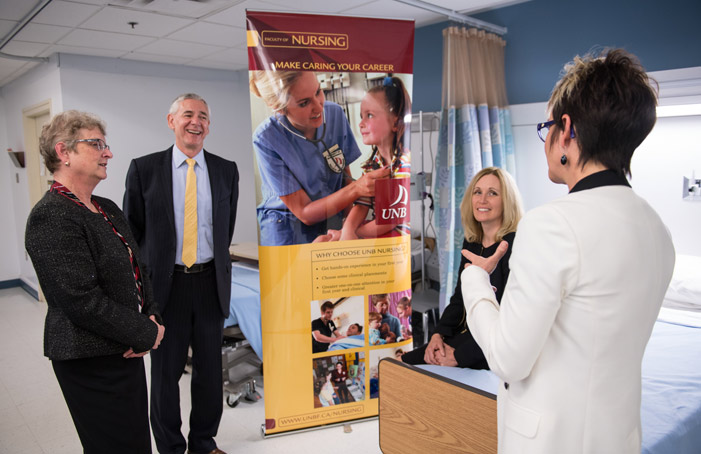 The faculty of nursing at the University of New Brunswick has received a significant software donation that will help prepare student nurses for success in the workplace.
The global electronic medical records company, Allscripts Healthcare Solutions, Inc., with Canadian head office located in Richmond, B.C., has donated an experiential learning subscription, Allscripts Sunrise™ electronic medical record (EMR), for a period of five years to be used by up to 200 students and faculty.
Allscripts Sunrise is a comprehensive suite of electronic medical records solutions. It provides immediate analysis and insights and extends across inpatient, ambulatory, emergency and other acute care settings. It delivers a single patient record and consolidated analytics for the entire organization.
The Saint John Regional Hospital already uses Allscripts hospital information systems and the company has had partnerships with hospitals and healthcare systems throughout Canada for 35 years. The opportunity for student nurses to become familiar with the software during the course of their studies will benefit both graduates and their future employers.
"Many hospitals across Canada utilize electronic medical records in the provision of patient care," said Patricia Seaman, acting dean of the UNB faculty of nursing. "The University of New Brunswick prepares nurses to practise across Canada and the generous donation of this valuable learning tool will provide an easier transition into the workplace upon their graduation."
"We are honoured to partner with the University of New Brunswick faculty of nursing to provide our Sunrise Experiential Learning solution to support their nursing students in their studies," said Jennifer MacGregor, Allscripts managing director, Canada. "As a healthcare transformation company, our goal is to enable clinicians to provide excellent care, and the graduates of UNB will be better prepared to work in an environment with EMRs and will excel in their practise of smarter care."
The faculty of nursing at UNB will start using the Allscripts software as a learning management system in September, 2017.
Media contact: David Stonehouse
Photo: From left, Dr. Patricia Seaman, acting dean of nursing at UNB, Neil Russon, business development executive, Allscripts Healthcare Solutions, and Jennifer MacGregor, Allscripts managing director, Canada, speak with Dr. Kathy Wilson, associate vice-president academic (learning environment) at UNB. Rob Blanchard / UNB Photo.