University of New Brunswick professor up for awards for Oland book history of policing text
Author: Communications
Posted on Apr 11, 2017
Category: UNB Saint John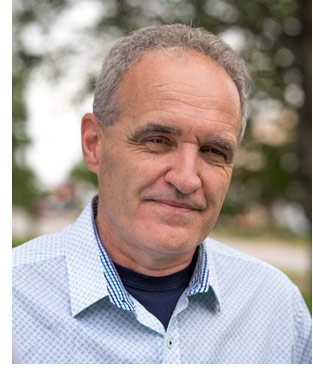 Truth and Honour: The Death of Richard Oland and the Trial of Dennis Oland, a book by Greg Marquis, a professor of history at the University of New Brunswick's Saint John campus, has been named as a finalist for Canada's National Business Book Award.
It is the first of two of Dr. Marquis' books to be nominated for awards this year, as he also recently learned that his law-enforcement history The Vigilant Eye: Policing Canada from 1867 to 9/11 has been nominated for an Atlantic Book Award.
"I am happy that the two publishers, and especially the editors and promotional staff, are being recognized for all their hard work," said Dr. Marquis.
Truth and Honour, which details the ins and outs of the highest-profile case in recent New Brunswick memory, is one of seven books nominated for the National Business Book Award.
For his part, Dr. Marquis was initially surprised to be nominated for an award in this category.
"I didn't think of it as a business book, but after I read the citation on the National Business Book Award website, I thought it made sense," he said. "It's kind of business history in a weird way. It's another way to look at a relatively uncovered topic, which is the elite within New Brunswick."
The National Business Book Award, juried by well-known figures such as CBC's Peter Mansbridge, carries a $30,000 cash prize. The timing of the award could not be better, as the publisher, Nimbus, is planning to release a paperback edition of the book in May with additional material covering developments in the case up to March, 2017.
"They didn't really know me that much and they trusted me as an author," said Dr. Marquis. "I think it would also help promote the book to a national audience, because it's hard working out of New Brunswick and the Maritimes to get that national attention sometimes."
The Vigilant Eye will be garnering attention for its publisher, Fernwood Publishing. It has been shortlisted for a prize in the Scholarly Writing category. The $1,000 prize is administered by the Atlantic Book Awards Society and is awarded to "the author(s) of a published book determined to have had (or likely to have) a significant literary, social and academic impact in the areas of the social sciences and humanities." The author must be a native or resident of Atlantic Canada.
"As someone who teaches criminal justice history, I kept waiting for an overview of the history of Canadian policing. It never appeared," said Dr. Marquis. "We have a good academic literature on the history of political policing or security and intelligence, and more is appearing all the time. But there is surprisingly little written by academic historians on regular criminal policing and so I wrote this overview, which is based on 30 years of working in the area."
The winner of Canada's National Business Book Award will be announced April 24, 2017 in Toronto, while the winner of the Atlantic Book Awards will be announced on May 18, 2017 in Halifax.
Media contact: Colin Hodd