UNB student digs deep for athletic and academic success
Author: Communications
Posted on Apr 28, 2017
Category: UNB Saint John , myUNB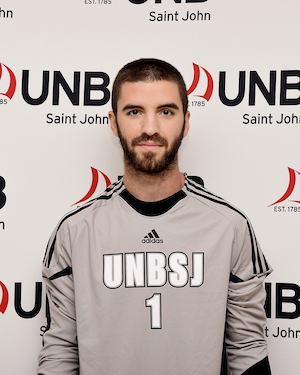 Education is a swift-moving stream. Fall out of the current, and it's easy to be left behind. Bruce Savoie knows this better than most. The 26-year-old University of New Brunswick student and keeper on the UNB Saint John soccer team has just been named a 

Canadian Collegiate Athletic Association Academic All-Canadian

, the organization's most prestigious award.
It's an achievement made more impressive considering where he was just eight years ago
"The first time I had to leave high school was in Grade 9. Mental health issues kind of held me back and everything after that kind of snowballed," said Mr. Savoie. "By the time I was 18, I hadn't made it out of Grade 10. I would have been 21 by the time I finished high school."
Mr. Savoie left high school but later got his GED. In 2010, he started at UNB's Saint John campus and hit another rough patch, struggling before leaving the university. He learned a trade, autobody repair, but a workplace injury made him rethink the work. Now married, he returned to UNB with a renewed focus.
"My wife does a lot for me and our son. I couldn't justify not doing well," said Mr. Savoie.
He returned to university part-time in the general studies program in 2012, was accepted into Arts the following year, and applied for the concurrent Bachelor of Education degree, pursuing an old dream to become a guidance counsellor.
"It's something that I wanted to do when I was a kid, to teach, and after high school finished I didn't think that goal was going to be realistic," he said. "It's still kind of surreal to know that this time next year I'm going to have a couple degrees."
Mr. Savoie's Academic All-Canadian award is the latest honour in a year where everything is coming together for him in class and on the pitch. The award is granted only to students who have achieved simultaneous excellence in athletics and academics. 
His other awards include a CCAA National Scholar Award, ACAA First Team All-Conference Keeper of the Year, the Seawolves 5-Year Award, UNB Associated Alumni Watch and the Student-Athlete Advisory Council Leadership Award.
"He persevered through the ups and downs of university, mentored the younger players and taught them how to compete," said David Munro, athletics director on the Saint John campus. "The academic success Bruce achieved was nothing short of remarkable. He is the perfect example of why we should never give up on any student at any point."
Mr. Savoie views his athletic pursuits as a necessary part of his success, a way to keep himself level and organized. His path to this point has been unconventional, but Mr. Savoie hopes that it can be an example.
"The whole experience has been a pretty wild ride," said Mr. Savoie. "I have a one-year-old son at home, and I think it's going to be something for him and I to reflect on when he's older, to see that there are going to be challenges, things don't always work out the way you plan but sometimes it's for the best."
Media contact: Colin Hodd
Photo: UNB Saint John's Bruce Savoie suits up as Seawolves' soccer keeper.