Accomplished UNB student recruited by Air Canada CEO
Author: Communications
Posted on Apr 27, 2017
Category: UNB Saint John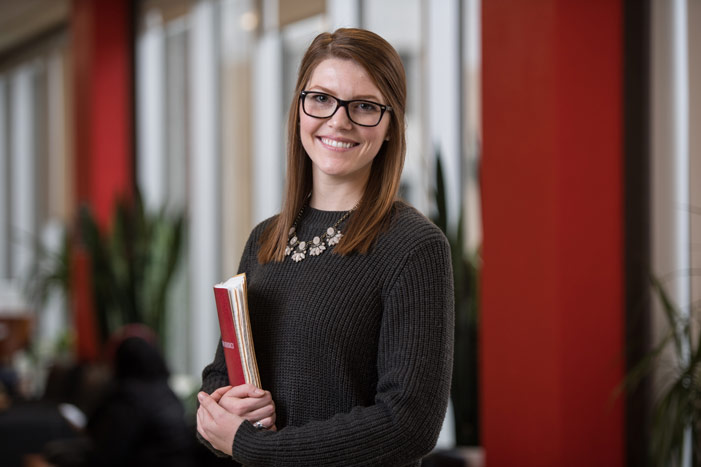 Students are generally told to "make the most" of their time at university. University of New Brunswick Saint John student, and one of its 2017 Graduating Student Leadership Award winners, Dana Dodsworth seems to have taken that advice to heart.
The award is given to students who has "made outstanding voluntary extracurricular contributions to their academic program/department, or to UNB Saint John as a whole."
Ms. Dodsworth checked those boxes and then some, completing multiple co-op placements and garnering several scholarships, including the Governor Thomas Carleton Scholarship, the Colter Family Bursary, the Richard Burpee Scholarship, an Alumni Undergraduate Scholarship and the Dr. Colin B. Mackay Scholarship.
She has also been named UNB Saint John Co-op Student of the Year for 2017, sits on multiple boards and councils, and played two seasons on the school's varsity volleyball team. She will be capping it all with a job offer from a major Canadian company just as she prepares to graduate.
"Dana is a highly accomplished and well-rounded student who has taken full advantage of the opportunities offered through our co-op programs," says Fazley Siddiq, dean of business at UNB Saint John. "Her achievement is based on hard work and we wish her the best as she moves into the working world."
The Quispamsis native was scouted by UNB Saint John Volleyball and decided, after visiting the school, that UNB was the place for her.
"I liked that the university was close to home. People forget to take advantage of opportunities in their backyard," says Ms. Dodsworth. "The financial savings living at home along with the scholarships UNB offered me allowed me to graduate without any debt. I liked the small and close feel of the campus and how friendly it was."
Since beginning her Bachelor of Business Administration in 2014, Ms. Dodsworth has completed three work terms (TD Insurance, and Irving Oil twice). Supplementing her class schedule with volunteer activities on top of varsity athletics might seem like overloading, but Ms. Dodsworth says that it's actually the key to keeping her organized.
"Being busy forces me to stay organized, efficient and focused, and I couldn't imagine how to live any other way," she says. "UNB offers so many opportunities to get involved and stay busy on and off campus, it's during these activities that class learning can be put to work, and where you grow the most as an individual."
As a recipient of the Cedric Ritchie Scotiabank International Study Award, Ms. Dodsworth was able to spend the winter term of 2016 studying at the Burgundy School of Business in Dijon, France. With these experiences under her belt, she felt confident to apply for a Future Funds Scholarship this year. The award included the opportunity to represent UNB at Canada's Outstanding CEO of the Year Award Gala in Toronto in late February.
During a leadership session that select students attended with three of Canada's top corporate executives, Calin Rovinescu, the president and CEO of Air Canada, told the students that there were jobs for them at the airline if they wanted them. Ms. Dodsworth took him up on the offer.
"I was extremely grateful to have been given that incredible opportunity," says Ms. Dodsworth of the management trainee position. "I will be moving to Montreal after graduation. While I am moving on, UNB has given me the curious and driven attitude of a successful student, and I plan on carrying it through the rest of my life."
Media contact: Colin Hodd
Photo: UNB Saint John business student Dana Dodsworth, who will be beginning work with Air Canada in Montreal following graduation. Rob Blanchard/UNB Photo