UNB students propose a way to recycle industry heat waste to warm neighbouring school
Author: Communications
Posted on Mar 20, 2017
Category: UNB Fredericton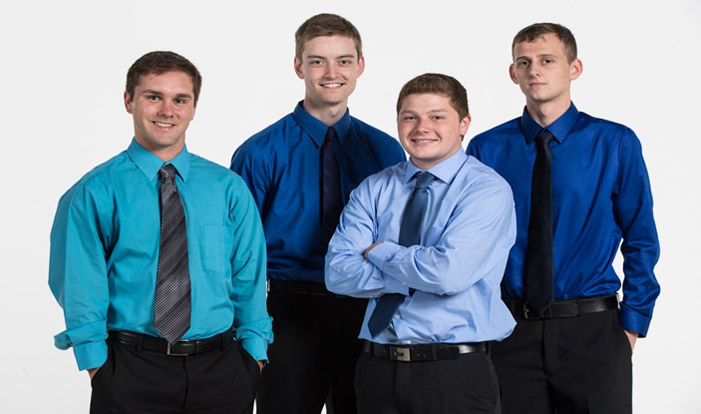 As part of an engineering design course at the University of New Brunswick's Fredericton campus, fourth-year chemical engineering students toured McCain Foods in September, with little idea that they would soon uncover an innovative way to recycle its waste streams.
After some research and investigating however, the group of students created a design that could allow McCain Foods to take residual heat from the company's refrigeration system, transfer it to a fluid and transfer it through a pipeline to heat a neighbouring school.
As part of their capstone design course at UNB, the students were partnered with McCain Foods to look at waste streams, such as potato peel waste and exhaust waste, and suggest ways the company could recycle or reuse the waste in a useful and profitable way.
"Exhaust heat seemed to be the most economical option, so that's what we went with," said one team member, Ben Lanigan. "We designed a way to capture the heat from their refrigeration system, transfer it to a fluid and put it through a pipeline to Florenceville Middle School."
And according to the group, the design could provide enough heat for the school even in the coldest months of winter, saving about $60,000 per year.
"The idea came to us after reading about a British company that used waste CO2 and waste heat to grow tomatoes," said Mr. Lanigan.
Dr. Michel Couturier, associate dean of engineering at UNB and NSERC chair in design engineering, says he's amazed every year to see the solutions students come up with to solve the community's engineering design needs.
"By partnering with industry, local governments and non-profit organizations, we're able to provide our students with real-world experience and those same organizations benefit from the new, fresh ideas of our next generation of engineers," said Dr. Couturier. "We've seen some really amazing partnerships forged through the capstone design course and a number of the projects have been used to improve the way local organizations do business."
Exhaust heat from the refrigeration system was not the only waste stream the chemical engineering students found a solution for. As part of their presentation to McCain Foods, which will take place in the coming weeks, the team will also propose a design to a potato drying system that would allow heat in the air used to dry the potatoes to be captured and reused.
Andrew Mergl says the work he and his fellow students have done with McCain Foods has required a lot more problem-solving skills than what he's encountered in the classroom.
"We needed to assess all our options to see what was feasible. It gave us a much better perspective of what a career in consulting or as a process engineer would be like."
Mr. Lanigan says they would be really excited if McCain Foods was able to incorporate their designs in the Florenceville factory; however, he's simply looking forward to showing the community their work.
"It would be really exciting to see our design used in any organization who may hear about it at this year's symposium."
Their project is among 300 that will be on display at UNB's Third Annual Engineering Design Symposium taking place at the Fredericton Convention Centre on Thursday, March 30th, 2017 from 8:20 a.m. to 5 p.m.
Media contact: Natasha Ashfield