Terry Fox Research Institute invests 5 million in research effort lead by the University of New Brunswick
Author: Communications
Posted on Feb 22, 2017
Category: UNB Saint John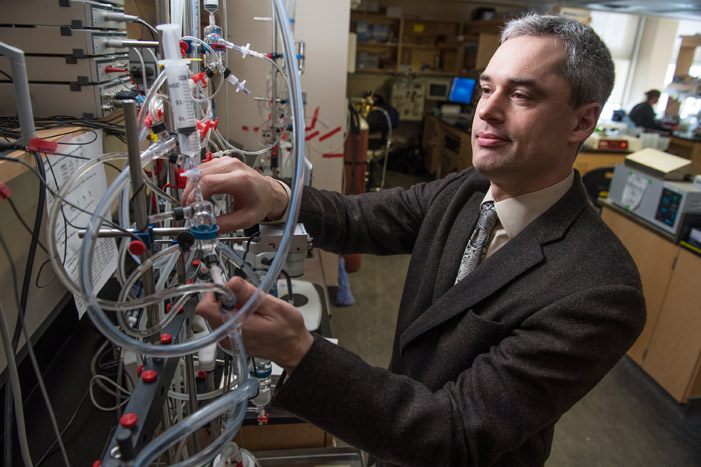 The Terry Fox Research Institute today announced an investment of $5 million for New Brunswick researchers and their colleagues at other cancer centres in Canada to study how new precision medicine tools could improve, and potentially save, the lives of patients diagnosed with multiple myeloma, an incurable cancer of the blood and bone marrow.
"This $5 million for the Multiple Myeloma Molecular Monitoring Study will enable this world-class research team to apply cutting-edge tools of precision and personalized medicine to better characterize, monitor and treat the disease over time, with the goal of identifying patients whose treatments should be tailored from the current standard of care for the best outcomes possible. We hope this strategy will result in more lives saved," says Dr. Victor Ling, Terry Fox Research Institute president and scientific director.
"This is our first pan-Canadian study led from New Brunswick and we congratulate Dr. Reiman and his team for bringing together this talented group," Dr. Ling says. Dr. Tony Reiman, a medical oncologist and professor at the University of New Brunswick, will lead the team, which comprises researchers and clinicians at multiple sites including Vancouver, Calgary, Toronto and Montreal. He hopes the five-year study will result in game-changing new approaches to identifying, treating and monitoring the disease in patients, including those who are at high risk of relapse. He hopes their work will bring strong, evidenced-based results that impact the current standard of care.
"Currently, patients are all treated and monitored the same way. For patients for whom treatment fails, we need to be able to find new ways of doing things to change that. We're working with sensitive newer techniques to better understand characteristics of the disease that escape our treatments and persist, even during clinical remission, that are going to eventually cause the patient to have a relapse, so we can find better ways to kill those cancer cells that survive the initial treatment," says Dr. Reiman.
His team in Saint John will organize all the participating centres as well as conduct its own research and receive and bank specimens (blood and marrow) from the 250 myeloma patients who will participate in the project.
Study team members will use tests based on advanced techniques like immunoglobulin gene sequencing, multiparameter flow cytometry, PET scans, circulating tumour DNA analysis, and novel drug resistance assays to evaluate the patient specimens and other biosamples. Principal investigators at the partner sites are: Drs. Donna Reece and Suzanne Trudel, Princess Margaret Cancer Centre; Dr. Nizar Bahlis, University of Calgary; and Dr. François Bénard, BC Cancer Agency.
The research study is significant to Saint John resident and myeloma patient Susan Collins, who is already an active research participant. Patients will be recruited by the study investigators at their own sites.
"Hope is what sustains all myeloma patients. We hope for a better quality of life and survival until the time when doctors tell their patients myeloma is treatable and curable. Research offers hope for a cure and, in a small way, by supporting studies like this one, I feel I am making a contribution to unlocking the doors to a cure," she says. Multiple myeloma is a deadly disease of the blood and bone marrow. Many people live only months after diagnosis, and only 40 per cent are alive after five years. Between 2,000 to 3,000 Canadians are affected by this disease annually. New treatments are needed to help save and extend the quality of life for these patients.
About TFRI
Launched in October 2007, The Terry Fox Research Institute is the brainchild of The Terry Fox Foundation and today functions as its research arm. TFRI seeks to improve significantly the outcomes of cancer research for the patient through a highly collaborative, team-oriented, milestone-based approach to research that will enable discoveries to translate quickly into practical solutions for cancer patients worldwide. TFRI collaborates with over 70 cancer hospitals and research organizations across Canada. TFRI headquarters are in Vancouver, BC. 
About UNB
The University of New Brunswick (UNB) is Canada's oldest English-language university. Founded in 1785, the multi-campus institution has a rich history and a dynamic focus on innovation, experiential learning and entrepreneurship. UNB has more than 10,500 students from nearly 100 countries while several thousand more take UNB courses online and at partner institutions around the world.
Media contacts
Heather Campbell, Communications Officer, University of New Brunswick, 506-648-5697, hcampbel@unb.ca
Kelly Curwin, Communications, Terry Fox Research Institute, 778-237-8158, kcurwin@tfri.ca