UNB's Ali Ghorbani appointed Canada Research Chair in Cybersecurity
Author: Communications
Posted on Dec 2, 2016
Category: UNB Fredericton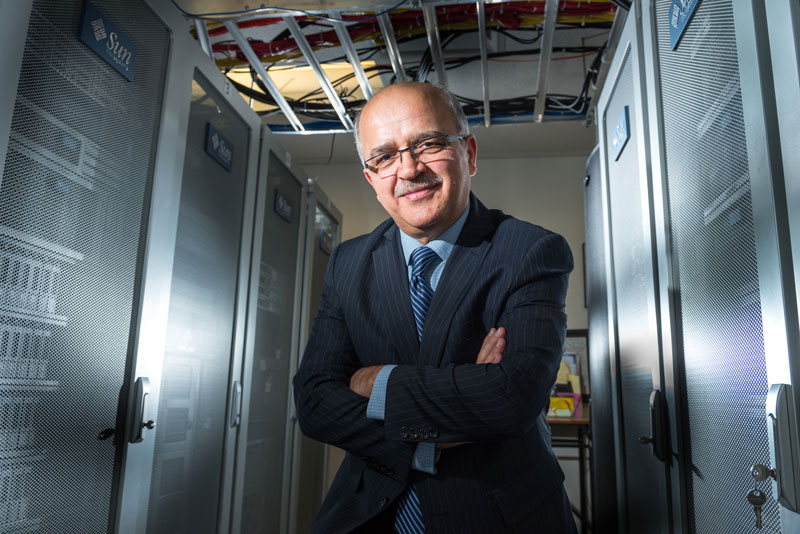 Photo credit: Joy Cummings
Ali Ghorbani, dean of computer science at the University of New Brunswick, has been named Tier 1 Canada Research Chair in Cybersecurity.
"I'm incredibly excited by the opportunity this Canada Research Chair presents, and grateful for the federal investment and recognition," Dr. Ghorbani said. "This will allow me to expand my research program, attract more graduate students and research associates, and increase R&D collaborations with the cybersecurity industry."
Tier 1 Canada Research Chairs are world-leading researchers, recognized by their peers for their innovative work. UNB will receive $200,000 in annual funding for each of the seven years of Dr. Ghorbani's term.
"This is tremendous news. Dr. Ghorbani is an exceptional researcher and highly deserving of this honour," said Eddy Campbell, president of UNB.
"He is a true pioneer in the field and has been instrumental in cementing the University of New Brunswick as a national leader in cybersecurity research. I expect we will see more exciting developments on this front in the near future."
Dr. Ghorbani's research focuses on cybersecurity solutions in a rapidly evolving, data-intensive world. He's developing techniques and tools to identify cyberthreats and cybercriminal activity before they're able to cause harm.
In his 35 years in academia, Dr. Ghorbani has published over 200 peer-reviewed articles and supervised over 160 research associates, postdoctoral fellows, graduate and undergraduate students. He is co-inventor of three awarded patents in the area of network security and web intelligence and he has obtained more than $6 million to fund five large multi-project research initiatives since 2010.
About the Canada Research Chairs
The Canada Research Chairs (CRC) program has stood at the centre of a national strategy to make Canada one of the world's top countries in research and development since 2000. The CRC program invests approximately $265 million per year to attract and retain some of the world's most accomplished and promising minds. Canadian universities both nominate Canada Research Chairs and administer their funds.
Media contact: David Stonehouse