Leading scholar in Canadian history to challenge notions behind Confederation at UNB lecture
Author: Communications
Posted on Nov 17, 2016
Category: UNB Saint John , UNB Fredericton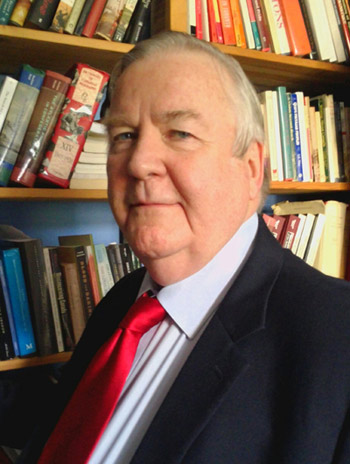 Visiting Professor from the Institute of the Americas at University College London, Dr. Phillip Buckner, will deliver the 2016 W. Stewart MacNutt Memorial Lecture.
In his presentation, Beware the Canadian Wolf? -- The Maritimes and Confederation, he will challenge the notion that Confederation was forced on the Nova Scotia and New Brunswick governments.
Many historians have argued that the Maritimes had little interest in a British North American union in the 1860s. They contend that Upper and Lower Canadians dominated the Charlottetown and Québec conferences, which set the terms for Confederation, and with ample assistance from the British Government, compelled New Brunswick and Nova Scotia to accept the union.
"As with any negotiations, there were many factors which had to be considered and compromises had to be made," said Dr. Buckner. "The Maritime regions had to weigh the options of Confederation and the uncertainty of the changing geopolitical landscape throughout North America at that time."
Dr. Bucker holds a PhD from the University of London and taught history at UNB from 1968 until his retirement in 1999, when he was awarded the title of professor emeritus. He also founded Acadiensis: Journal of the History of the Atlantic Region as well as Acadiensis Press, which for more than four decades produced the core of essential historical scholarship on the region.
Dr. Bill Parenteau, UNB professor of history and fellow scholar of Atlantic Canadian history, said he is pleased to welcome such an accomplished historian back to UNB.
"Dr. Buckner has been influential in the study of Atlantic Canadian and Canadian history for more than 40 years," said Dr. Parenteau. "He has published numerous books and articles in his field, as well as established new academic journals and Canadian studies programs. We are honoured to welcome him back to UNB for 2016 W. Stewart MacNutt Memorial Lecture."
After retiring from UNB, Dr. Buckner moved to London where he established Canadian Studies programs at the Institute of Commonwealth Studies at the University of London and at the Institute for the Study of the Americas at the University College of London.
Dr. Buckner will deliver his lecture on Tuesday Nov. 22, at 5:30 p.m. in the Alfred Bailey Auditorium, Tilley Hall, Room 102 on the UNB Fredericton campus. All members of the UNB community and the public are encouraged to attend this free event.
The annual W. Stewart MacNutt Memorial Lecture honours the late historian, professor and humanitarian for his many contributions to the University of New Brunswick and to the development of Atlantic Canadian history as a field of study.
Media contact: Melissa Wah