UNB Harrison McCain Visiting Professor sharing good news about the environment
Author: Communications
Posted on Oct 27, 2016
Category: UNB Fredericton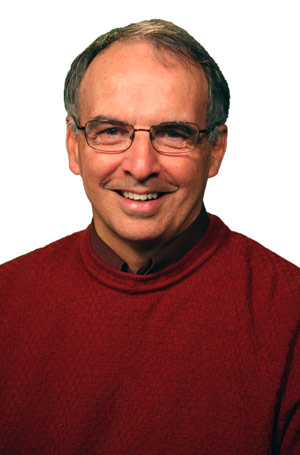 Ever wonder what's being done to combat the effects of air pollution in Canada?
John Gunn, one of Canada's top biologists, will present a lecture on Friday, Oct. 28 at the University of New Brunswick's Fredericton campus. He will describe Sudbury, Ontario's 99 per cent decrease in air pollution and how similar results might be achieved across the country and around the world.
"I'm talking about good news on the environment front – instead of the usual bad news," says Dr. Gunn, a Tier 1 Canada Research Chair in Stressed Aquatic Ecosystems at Laurentian University in Sudbury.
Good news has become the focus of his work, which looks at how damaged systems recover themselves – Sudbury is a shining example. Home to one of the largest mining complexes on earth, its copper and nickel smelters were once the largest point source of acid rain in the world and the focus of vigorous debates between Canada and the United States during negotiations of the 1990 Clean Air Act.
Dr. Gunn has been leading a government, industry and university collaborative research program in Sudbury which focuses on the effects of mining and smelting on lakes since 1989. This collaboration "parallels very much with what UNB's Canadian Rivers Institute is all about – research that involves university and government people working together," he says.
After its dark period in the past, Sudbury went on to win the United Nation's Earth Summit award for its citizen-led regreening program and the development of technologies to dramatically reduce air pollution levels. Dr. Gunn believes that Canadian communities in other industrial cities can similarly be revitalized by first investing in the environment and green technologies.
Dr. Gunn has been working with UNB biology professor Karen Kidd and UNB's Canadian Rivers Institute as well as mentoring students on the Saint John campus as a Harrison McCain Visiting Professor. The Harrison McCain Visiting Professorship allows UNB faculty to bring colleagues from other institutions to enrich the UNB experience.
Dr. Gunn hopes that a result of this Harrison McCain Visiting Professorship will be a long-term collaboration between UNB and Laurentian University.
"The Canadian Rivers Institute at UNB is fortunate to be hosting John Gunn as he has a wealth of experience in how humans are affecting aquatic ecosystems," says Dr. Kidd, a science director with the Canadian Rivers Institute.
A professor in the department of biology at Laurentian University, Dr. Gunn is the director and creator of the Vale Living Lakes Centre. He joined the university in 2003 after 25 years as a senior research scientist for the Ontario Ministry of Natural Resources.
"The Harrison McCain Foundation has provided us with a fantastic opportunity. We are strengthening ties to a top-notch group at Laurentian University and expanding our work on stream health in New Brunswick with his expertise," says Dr. Kidd.
"Some Environmental Good News: Recovery of Mining Impacted Landscapes in Sudbury" will take place Friday, Oct. 28 at 3 p.m. in room 146 of Bailey Hall.
About the Canadian Rivers Institute
The Canadian Rivers Institute (CRI), founded in 2001 and hosted at the University of New Brunswick, is a network of 22 scientists at 14 institutions across Canada and internationally. CRI scientists and their networks of research associates, graduate students, and staff support governments, businesses and communities in making smart, evidence-based decisions through high-impact research. The institute's vision is to make every river a healthy river.
About the Harrison McCain Visiting Professorship
The Harrison McCain Visiting Professorships offer up to $50,000 to allow UNB faculty to bring colleagues from other institutions to enrich the UNB experience. The program is part of the Harrison McCain Faculty Awards program which also includes the Harrison McCain Young Scholars Awards, the Harrison McCain Visitorships, and the Harrison McCain Grant in Aid of Scholarly Book Publishing.
Media contact: Claire Geldart, Communications Assistant, 506-458-7996