UNB and JDI celebrate three new scholarship recipients
Author: Communications
Posted on Oct 27, 2016
Category: UNB Fredericton , UNB Saint John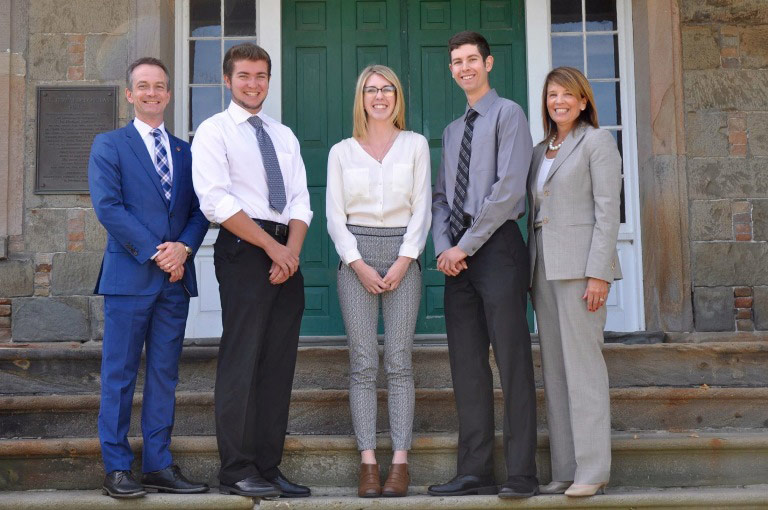 Dr. George MacLean, vice-president (academic), UNB Fredericton; Caleb Waite; Ashlyn Moody; Cameron Arthurs; Colleen Baxter, vice-president of human resources, JDI.
The University of New Brunswick and J.D. Irving, Limited (JDI) are pleased to announce the 2016 recipients of the JDI NB Scholarships at UNB.
Congratulations to Ashlyn Moody of Blackville, N.B., studying chemical engineering; and to forestry students Cameron Arthurs of Carter's Point, Kingston Peninsula, N.B., and Caleb Waite of Belleisle Creek, N.B. All three are enrolled at UNB's Fredericton campus.
The scholarships are valued at $8,000 per year and are renewable up to $32,000, based on academic performance.
"This is a wonderful opportunity for some of our students to receive support in their studies at UNB," said George MacLean, vice-president academic (Fredericton). "This is a continuation of the strong partnership we have with JDI. It's important to our students, important to our academic mission, and a great example of partnership in our community."
The scholarships are funded by a $1 million gift to UNB made by JDI in 2007. They provide students with the freedom to focus on their education, setting them up for success after graduation.
"We are so pleased to offer these $8,000 renewable scholarships to such hardworking students," said Colleen Baxter, vice-resident of human resources at JDI. "Their passion for this province is infectious. There's also a strong UNB alumni presence at JDI – 600 alumni are part of our team, over 30 per cent of them in leadership roles. We look forward to the next award of scholarships in the new year and encourage incoming UNB students from New Brunswick to apply before the March 1, 2017 deadline."
Media contact: Claire Geldart