RBC invests 1 million in entrepreneurship education at the University of New Brunswick
Author: Communications
Posted on Oct 13, 2016
Category: UNB Fredericton , UNB Saint John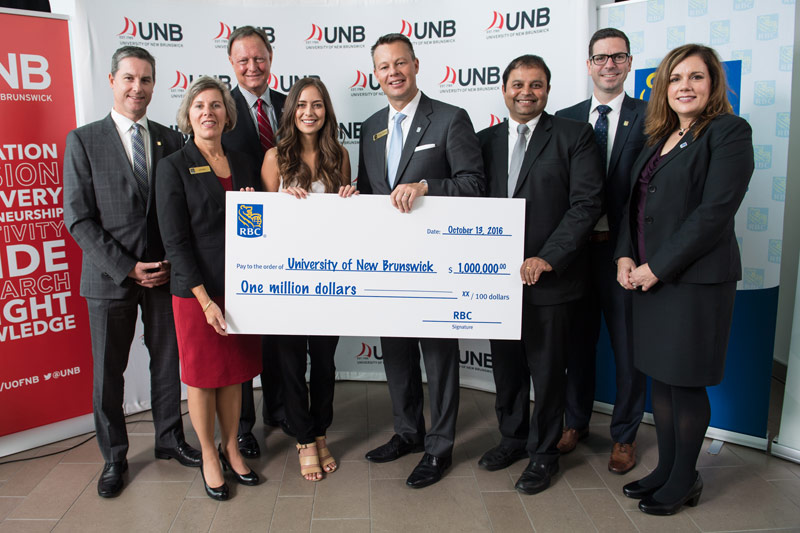 Left to right: Craig Maguire (BBA SJ '92), Branch Manager & Associate Portfolio Manager, RBC Dominion Securities; Lori Smith, Manager, Public Affairs, Atlantic Provinces, RBC; Tom Gribbons (BSF '83), VP & Branch Manager, RBC Dominion Securities; Kayley Reed (BPhil '14), co-founder and CEO, Wear Your Label; Roger Howard, Regional President, Atlantic Provinces, RBC; Dhirendra Shukla, Dr. J. Herbert Smith ACOA Chair, UNB; Luc Pellerin, VP, Commercial Banking Services, RBC; Mara Payn-McGrath, Regional Vice President, Western NB, RBC.
Students at the University of New Brunswick (UNB) who want to change the world now have more opportunities to develop their entrepreneurship skills thanks to RBC, Canada's largest bank.
RBC announced today that it is making a leadership gift of $1 million to support innovation and entrepreneurship education at UNB's Dr. J. Herbert Smith Centre for Technology Management & Entrepreneurship (TME).
"RBC has a long and distinguished history of supporting innovation at UNB, and I am honoured to accept this gift," said Eddy Campbell, UNB President and Vice-Chancellor. "UNB has been rated best in the nation for teaching entrepreneurship. This investment will build on the success of our programs and create new opportunities for our students to turn their ideas into products and services."
The RBC Innovative Action Fund will support a variety of experiential activities associated with UNB's Technology Management & Entrepreneurship program, creating new opportunities for students as well as members of the community. These activities will include:
RBC idea, student pitch and product design competitions;
An RBC Lunch & Learn guest lecture series that brings business people with national and international experience into our classrooms;
An RBC Technology Commercialization Program Fund, to help students move from the idea stage to working models of their products;
An RBC Export Marketing Fund that will enable the proponents of well-developed start-up businesses to explore new markets outside of New Brunswick;
An RBC Mentor-in-Residence program with national-class mentors;
An annual leadership conference, focusing on business leadership in an era of global change; and
The creation of the RBC Innovative Action Room, a new space for meetings, consultations and mentorship events.
"The University of New Brunswick is a place where meaningful experiential education changes lives," said Roger Howard, RBC's Regional President, Atlantic Provinces. "We wanted our contributions to focus on innovation, helping students connect their vision with community needs and develop the skills to turn bright ideas into successful new ventures."
"UNB is changing the conversation about business development in New Brunswick for a generation of new entrepreneurs," said Dr. Dhirendra Shukla, Chair of the Dr. J. Herbert Smith Centre for Technology Management & Entrepreneurship. "This gift from RBC will ensure that our programs can continue to develop, expanding UNB's role as a regional and national leader in entrepreneurship education."
The announcement was applauded by Kayley Reed, a TME alumna, co-founder of "conscious clothing" company Wear Your Label. "Canada's largest financial institution is investing in youth entrepreneurship," Ms. Reed said. "How great is that?"
"UNB's TME program was integral to getting our company to where it is today. Now, the RBC Innovative Action Fund will create more opportunities for students at UNB to discover their potential as entrepreneurs and meet today's challenges with innovation."
About RBC
Royal Bank of Canada is Canada's largest bank, and one of the largest banks in the world, based on market capitalization. We are one of North America's leading diversified financial services companies, and provide personal and commercial banking, wealth management, insurance, investor services and capital markets products and services on a global basis. We have over 80,000 full- and part-time employees who serve more than 16 million personal, business, public sector and institutional clients through offices in Canada, the U.S. and 36 other countries.
RBC helps communities prosper, supporting a broad range of community initiatives through donations, community investments, sponsorships and employee volunteer activities. In 2015, we contributed more than $121 million to causes around the world.
About UNB
The University of New Brunswick (UNB) is Canada's oldest English-language university. Founded in 1785, the multi-campus institution has a rich history and a dynamic focus on innovation, experiential learning and entrepreneurship. UNB has more than 10,500 students from nearly 100 countries while several thousand more take UNB courses online and at partner institutions around the world.
Media contacts
Trish Vardy: Advisor, Public Affairs & Community Relations, RBC Royal Bank, (902) 421-4105.
David Stonehouse: Senior Manager, Communications, University of New Brunswick, (506) 458-7925.